There are no products in your shopping cart.
Please call 626-449-5320 to check the availability of this item.
Donde Viven Los Monstruos (Paperback)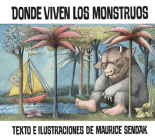 Description
---
Donde viven los monstruos tiene cincuenta anos de publicacion. Maurice Sendak ganador de la Medalla Caldecott por su libro de imagenes se ha convertido en uno de los libros infantiles mas queridos y aclamados de todos los tiempos. Todo nino debe tener una copia.
Las travesuras llevan a Max a su habitacion castigado y sin cenar. Encerrado entre esas cuatro paredes, imagina un viaje fantastico al pais de los monstruos, donde se convertira en el rey. Un libro para aprender a domar monstruos (en este caso, de lo mas dulces y tiernos).
Este clasico de la literatura infantil es ideal para los primeros lectores, quienes se veran identificados con Max, sus juegos, sus miedos y, su mundo.
Este iconico historia ha inspirado una pelicula, una opera, y la imaginacion de generaciones.