CLICK HERE to go back to the main Author Visits page.
CLICK HERE for other currently available authors.
WHY HOST ANNE?
Anne is passionate about animals and treating them with kindness. She shares her passion with students, creating a very positive experience.
ABOUT THE BOOK: Piggy & Pug
Piggy and Pug is a delightful story about a pug who is searching for a new family, and a pig who is searching for a friend, and the journey that brings them together.
ABOUT THE AUTHOR
Anne Wheaton retired from her career as a hairdresser to focus full time on some of her true passions: her love of rescue pets, and helping her fellow humans. For the past 4 years, she served as a Director for the Pasadena Humane Society & SPCA and as an Ambassador for National Women's Health Week through the U.S. Health Department's Office on Women's Health. She also managed a non-profit that she started with her husband called, The Foundation to Increase Awesome. Her first rescue pet was an orange tabby cat that followed her while walking home from a friend's house when she was 5 years old. (It was the 70s. Apparently it was a safer time?) After two days of searching for his owner, she discovered they had moved away and left this cat behind. The cat had gone out in search of a new family, and she became that for him. She never thought to seek out the family to find out why they left him, she just saw this cat who wanted to be loved and have a home. It was hard to understand at such a young age why anyone would do this, which is why she decided to write Piggy and Pug, the book the little-kid-her would have loved to read. Anne currently lives in Los Angeles with her husband, Wil, and their three rescue pets.
LENGTH & TOPIC OF PRESENTATION
TBD
SCHOOL TYPE & GRADES
TBD
DESIRED NUMBER OF STUDENTS
TBD
AV/OTHER REQUIREMENTS
Anne has a presentation on a flash drive. She will need access to a computer, a projector, a screen and a microphone.
PREPARING FOR ANNE'S VISIT
You can check out the book trailer for Anne's book below:
HASHTAGS/SOCIAL MEDIA
Instagram | Twitter | #PiggyAndPug
ORDER FORMS
Vroman's will create an order form that your school can use and distribute pre-author visit. We will also have book plates signed on the day of the event, for any students who turn in forms post-visit.
ONLINE ORDERING
Under Order Comments (found at the bottom of the check out page), please include: NAME OF STUDENT, GRADE LEVEL, and who the book(s) should be PERSONALIZED to.
Under Pick-up Options, please select: I would like to pick this order up at the store (although these books are going to be delivered to students on campus, on the day of the event).
Under Pick-up Location, please select: Vroman's Bookstore.
Educators: please DO NOT give books to students who say they have ordered online. Vroman's will be bringing online orders to the campus, if placed and confirmed, BEFORE the author visit.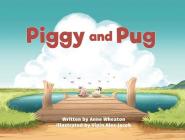 $19.99
ISBN: 9780974116099
Availability: Usually Ships in 1-5 Days
Published: Monolith Press - January 1st, 2019
---