A Tree Is Nice: A Caldecott Award Winner (Hardcover)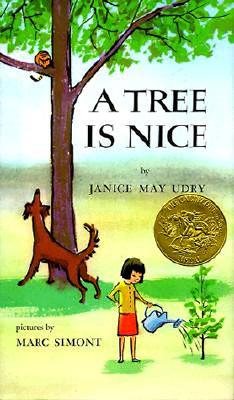 $18.99

Usually arrives at our store within 4-7 days
Description
---
Winner of the Caldecott Medal
"A radiant and buoyant picture book." —The Horn Book
A Tree Is Nice is a classic tale about the beauty of the everyday world. "Simont's watercolors perfectly complement the poetic simplicity of the text, allowing the reader room to engage in his or her own imaginative embroiderings about trees" (Children's Books and Their Creators).
Trees are beautiful. They fill up the sky. If you have a tree, you can climb up its trunk, roll in its leaves, or hang a swing from one of its limbs. Cows and babies can nap in the shade of a tree. Birds can make nests in the branches. A tree is good to have around. A tree is nice.
About the Author
---
Mrs. Udry's first book, A Tree Is Nice, illustrated by Marc Simont, won the 1957 Caldecott Award for the most distinguished American picture book. Mrs. Udry is also the author of Glenda, Let's Be Enemies (also illustrated by Maurice Sendak), Mary Ann's Mud Day, The Mean Mouse and Other Mean Stories, and Thump and Plunk.
Marc Simont was born in 1915 in Paris. His parents were from the Catalonia region of Spain, and his childhood was spent in France, Spain, and the United States. Encouraged by his father, Joseph Simont, an artist and staff illustrator for the magazine L'Illustration, Marc Simont drew from a young age. Though he later attended art school in Paris and New York, he considers his father to have been his greatest teacher.
When he was nineteen, Mr. Simont settled in America permanently, determined to support himself as an artist. His first illustrations for a children's book appeared in 1939. Since then, Mr. Simont has illustrated nearly a hundred books, working with authors as diverse as Margaret Wise Brown and James Thurber. He won a Caldecott Honor in 1950 for illustrating Ruth Krauss's The Happy Day, and in in 1957 he was awarded the Caldecott Medal for his pictures in A Tree is Nice, by Janice May Udry.
Internationally acclaimed for its grace, humor, and beauty, Marc Simont's art is in collections as far afield at the Kijo Picture Book Museum in Japan, but the honor he holds most dear is having been chosen as the 1997 Illustrator of the Year in his native Catalonia. Mr. Simont and his wife have one grown son, two dogs and a cat. They live in West Cornwall, Connecticut. Marc Simont's most recent book is The Stray Dog.
Praise For…
---
"This is one of those books which prick a child into a realization of the beauty of the everyday world." — The New York Times
"A radiant and buoyant picture book." — The Horn Book