The Private Lives of the Impressionists (Paperback)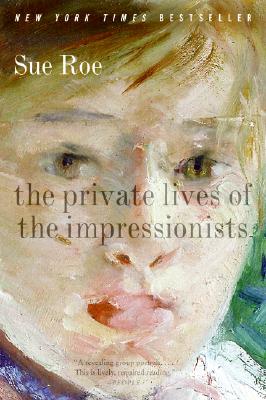 Description
---
New York Times Bestseller
"Anyone who has ever lost themselves in Monet's color-saturated gardens or swooned over Degas's dancers will enjoy this revealing group portrait of the artists who founded the Impressionist movement. . . . For the armchair dilettante, as well as the art-history student, this is lively, required reading." — People
The first book to offer an intimate and lively biography of the world's most popular group of artists, including Manet, Monet, Pissarro, Cézanne, Renoir, Degas, Sisley, Berthe Morisot, and Mary Cassatt.
Though they were often ridiculed or ignored by their contemporaries, today astonishing sums are paid for their paintings. Their dazzling works are familiar to even the most casual art lovers—but how well does the world know the Impressionists as people?
Sue Roe's colorful, lively, poignant, and superbly researched biography, The Private Lives of the Impressionists, follows an extraordinary group of artists into their Paris studios, down the rural lanes of Montmartre, and into the rowdy riverside bars of a city undergoing monumental change. Vivid and unforgettable, it casts a brilliant, revealing light on this unparalleled society of genius colleagues who lived and worked together for twenty years and transformed the art world forever with their breathtaking depictions of ordinary life.
About the Author
---
Sue Roe is the author of several books, including a widely praised biography of the artist Gwen John. She lives and teaches in Brighton, England.
Praise For…
---
"Anyone who has ever lost themselves in Monet's color-saturated gardens or swooned over Degas's dancers will enjoy this revealing group portrait of the artists who founded the Impressionist movement….for the armchair dilettante, as well as the art-history student, this is lively, required reading." — People
"Exceptionally detailed and thoroughly researched….Roe has done an admirable job of unearthing…countless…source materials." — San Francisco Chronicle
"The pleasure in reading Sue Roe's The Private Lives of the Impressionists comes from forgetting the ways in which we usually think of these artists…What stands out finally is the perseverance of these artists; amid all the pressures, they kept learning from and inspiring one another." — Boston Globe
"THE PRIVATE LIVES OF THE IMPRESSIONISTS belongs not on the cocktail table…but on the bookshelf…a wonderful read, emotionally stirring and beautifully written." — Christian Science Monitor
"The title suggests titillation and does not disappoint...Intelligent and well-crafted portraits of some of history's most intriguing geniuses." — Kirkus Starred Review
"Roe constructs a penetrating group portrait...scintillatingly detailed and empathic." — Booklist (starred review)
"Meticulously researched and vividly written...a comprehensive and revealing group portrait." — Publishers Weekly
"An entertaining, informative read...this [is a] wonderfully written biography." — The Bookseller
"Charming… a decidedly readable work that should engage lay readers and spur undergraduates to conduct authentic research of their own." — Library Journal
"A compelling subject: Sue Roe's book does it justice and is a pleasure to read." — Henrietta Garnett, Literary Review
"An illuminating insight into the lives of aesthetic revolutionaries" — Daily Telegraph (London)
"Vivid, superbly researched...Sue Roe transports us back to their Paris" — Daily Mail (London)
"Roe synthesizes the welath of published...work on half a dozen artists into a coherent narrative of kith and kinship" — Kathryn Hughes, The Guardian
"Widely researched...[Roe] has a neat, light touch." — Tom Rosenthal, Independent on Sunday
"Wonderful…Roe has a lively writing style and does a good job of delineating the personalities of each artist." — Providence Journal