A Suitable Boy: A Novel (Perennial Classics) (Paperback)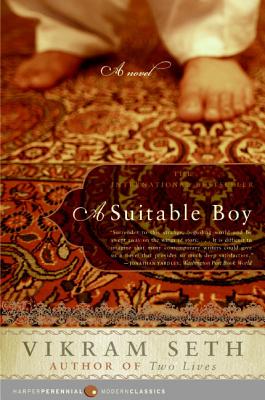 Description
---
"Surrender to this strange, beguiling world and be swept away on the wings of story. . . . It is difficult to imagine that many contemporary writers could give us a novel that provides so much deep satisfaction." —Jonathan Yardley, Washington Post Book World
A sweeping panoramic portrait of a complex, multiethnic society in flux, A Suitable Boy tells the story of ordinary people caught up in a web of love, ambition, humor, sadness, prejudice, reconciliation, the most delicate social etiquette, and the most appalling violence.
Vikram Seth's novel is, at its core, a love story: the tale of Lata's—and her mother, Mrs. Rupa Mehra's—attempts to find a suitable boy for Lata, through love or through exacting maternal appraisal. Set in the early 1950s in an India newly independent and struggling through a time of crisis, this compelling story takes us into the richly imagined world of four large extended families and spins a compulsively readable tale of their lives and loves. 
About the Author
---
Vikram Seth has written acclaimed books in several genres: verse novel, The Golden Gate; travel book, From Heaven Lake; animal fables, Beastly Tales; epic fiction, A Suitable Boy. His most recent novel, An Equal Music, was published in 1999. He lives in England and India.
Praise For…
---
"Surrender to this strange, beguiling world and be swept away on the wings of story. . . . It is difficult to imagine that many contemporary writers could give us a novel that provides so much deep satisfaction." — Jonathan Yardley, Washington Post Book World
"Awe . . . is what Seth's labor inspires in the reader. In the end it is as if one had listened to a raag played by a musician with skill, dexterity, and charm." — Anita Desai, New York Review of Books
"Enormously varied, unfailingly interesting, funny, sad, exasperating and appealing, this novel becomes a real passage to India." — Atlantic Monthly
"Spellbinding . . . Patterned after the massively populated nineteenth-century social novels of Charles Dickens, Anthony Trollope and George Eliot, A Suitable Boy is as vast and teeming as its subject, India." — San Francisco Chronicle
"[Seth is] passionately concerned to offer his Western readers as thick—and as multilayered—a slice of Indian life in the 1950s as this huge novel can hold . . . Lavishly detailed . . . lovingly recounted." — New York Times Book Review
"The novel casts a fine spell. . . . As you turn page after quiet page . . . what you're doing gradually passes beyond reading. It becomes an involuntary act, like breathing." — Newsweek
"A Suitable Boy provides that rarest of books, a literary tour de force as pleasant as it is unpretentious . . . a book as suitable for the scholar's nightstand as it is for any restful and enriching summer vacation." — USA Today
"A magnificent display of artistic control. . . . A Suitable Boy is a page-turner…that pays the reader back and richly." — Los Angeles Times
"A vivid tapestry of Indian life in the early 1950s . . . [Seth's] characters are captivating . . . They linger in the mind like old friends." — People
"A huge, fulsome novel . . . [with] surprising depths . . . What makes the book special is the wit and whimsy that inform its pages." — Chicago Tribune