Sex Wars: A Novel of Gilded Age New York (Paperback)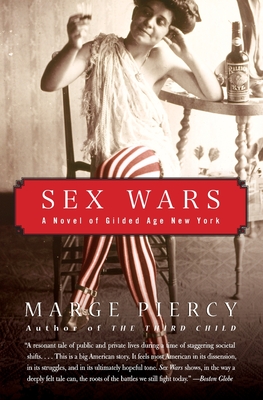 Description
---
Post–Civil War New York City is the battleground of the American dream. In this era of free love, emerging rights of women, and brutal sexual repression, Freydeh, a spirited young Jewish immigrant, toils at different jobs to earn passage to America for her family. Learning that her younger sister is adrift somewhere in the city, she begins a determined search that carries her from tenement to brothel to prison—as her story interweaves with those of some of the epoch's most notorious figures: Elizabeth Cady Stanton; Susan B. Anthony; sexual freedom activist Victoria Woodhull, the first woman to run for president; and Anthony Comstock, founder of the Society for the Suppression of Vice, whose censorship laws are still on the books.
In the tradition of her bestselling World War II epic Gone to Soldiers, Marge Piercy once again re-creates a turbulent period in American history and explores changing attitudes in a land of sacrifice, suffering, promise, and reward.
About the Author
---
Marge Piercy is the author of the memoir Sleeping with Cats and fifteen novels, including Three Women and Woman on the Edge of Time, as well as sixteen books of poetry, including Colors Passing Through Us, The Art of Blessing the Day, and Circles on the Water. She lives on Cape Cod, with her husband, Ira Wood, the novelist and publisher of Leapfrog Press.
Praise For…
---
"Rich...Piercy powerfully dramatizes the early feminists' zeal and the high stakes of the gender wars." — Publishers Weekly (starred review)
"A novel that will please historical fiction fans." — Library Journal
"Piercy does beautifully render some of the details of women's lives in the 1860s." — Naomi Wolf in ELLE
"Fascinating and only too relevant...Piercy has a gift for conjuring the texture of an historical era." — Washington Post Book World
"Succeeds remarkably in bringing history textbook characters to fully realized, fiery and memorable life." — Hartford Courant
"A riveting account...gripping, informative and haunting." — Tapestry magazine