The Graveyard Book: A Novel (Paperback)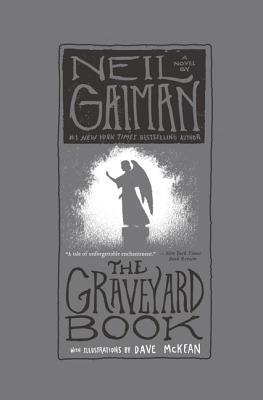 $16.99
Email or call for price
Fall 2008 Kids' List
---
"A delightfully layered story of Nobody Owens, who is raised by the semi-living and the dead in a graveyard. Gaiman uses wit and his depth of knowledge of the arcane to create a safe and nurturing world for the young orphan to grow and thrive in. This will be a joy for all ages!"
— Jane Jacobs, Porter Square Books, Cambridge, MA
Description
---
"Wistful, witty, and wise—and creepy. . . . Closer in tone to American Gods than to Coraline, but permeated with Bod's innocence, this needs to be read by anyone who is or has ever been a child." —Kirkus Reviews (starred review)

By turns macabre, uplifting, sinister, and heartwarming, Neil Gaiman's #1 national bestseller is an ingenious reimagining of Rudyard Kipling's classic adventure The Jungle Book. Called a "novel of wonder . . . a tale of unforgettable enchantment" by the New York Times Book Review, The Graveyard Book will captivate readers of all ages with its timeless meditation on love, loss, survival, and sacrifice . . . and what it means to truly be alive.

About the Author
---
Neil Gaiman is a #1 New York Times bestselling author of books for children and adults whose award-winning titles include Norse Mythology, American Gods, The Graveyard Book, Good Omens (with Terry Pratchett), Coraline, and The Sandman graphic novels. Neil Gaiman is a Goodwill Ambassador for UNHCR and Professor in the Arts at Bard College.
Dave McKean is best known for his work on Neil Gaiman's Sandman series of graphic novels and for his CD covers for musicians from Tori Amos to Alice Cooper. He also illustrated Neil Gaiman's picture books The Day I Swapped My Dad for Two Goldfish, The Wolves in the Walls, and Crazy Hair. He is a cult figure in the comic book world, and is also a photographer.
Praise For…
---
"The Graveyard Book, by turns exciting and witty, sinister and tender, shows Gaiman at the top of his form. In this novel of wonder, Neil Gaiman follows in the footsteps of long-ago storytellers, weaving a tale of unforgettable enchantment."
— New York Times Book Review

"Like a bite of dark Halloween chocolate, this novel proves rich, bittersweet and very satisfying."
— Washington Post

"The Graveyard Book feels like the careful work of an old craftsman."
— Newsday

"The invention of immortal folk who readers feel they might like to kick back with may be this prolific, tousle-haired, ex-pat British author's contribution to world literature."
— National Public Radio

"It's hard to think of a more delightful and scary place to spend 300 pages."
— The Guardian

"This brief, dark, savoury adventure deserves to become a modern classic of children's writing: it has more mystery, excitement and wisdom in a single chapter than all the soap-operatic dilemmas, empty acrobatics and moral dogmatism in those thousands of pages of Potter franchise."
— The Independent

"Wistful, witty, wise—and creepy. This needs to be read by anyone who is or has ever been a child."
— Kirkus Reviews (starred review)

"Genuinely frightening."
— Publishers Weekly (starred review)

"The Graveyard Book is everything everyone loves about Neil Gaiman, only multiplied many times over, a novel that showcases his effortless feel for narrative, his flawless instincts for suspense, and above all, his dark, almost silky sense of humor.
— Joe Hill, author of Heart-Shaped Box

"I wish my younger self could have had the opportunity to read and re-read this wonderful book, and my older self wishes that I had written it."
— Garth Nix, author of The Abhorsen Trilogy

"The Graveyard Book confirms what I've always thought: Neil Gaiman is a literary genius!"
— James Herbert, author of THE SECRET OF CRICKLEY HALL

"The Graveyard Book is endlessly inventive, masterfully told and, like Bod himself, too clever to fit into only one place. This is a book for everyone. You will love it to death."
— Holly Black, co–creator of The Spiderwick Chronicles