I Am Number Four: The Lost Files: The Legacies (Lorien Legacies: The Lost Files) (Paperback)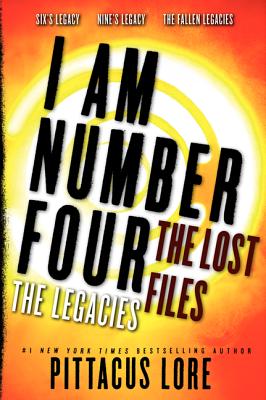 Autumn 2010 Kids' Next List
---
"John Smith arrives in Paradise Ohio and hopes that this will finally be the place where he settle down and be a normal teenager. This isn't so easy considering he's an alien developing supernatural powers on the run from the Mogadorians who have destroyed his home planet and are hunting him down along with the eight other surviving Loriens. A novel that hits the ground running and doesn't let up until the very end, this first book in the Lorien Legacies will cause readers to stop and think: do they really live among us?"
— Grace Firari, The Velveteen Rabbit Bookshop, Fort Atkinson, WI
Description
---
The perfect companion book to the #1 New York Times bestselling I Am Number Four series!
I Am Number Four: The Lost Files: The Legacies is the first collection of novellas from Pittacus Lore. Originally published separately, these stories are now together in one print volume.
Lost Files: #1: Six's Legacy is the captivating story of Six's harrowing capture by the Mogadorians—and her dramatic escape.
Lost Files: #2: Nine's Legacy sheds new light on how Nine became the fierce and fearsome warrior he is today.
Lost Files: #3: The Fallen Legacies reveals the riveting true story behind One, Two, and Three, the ill-fated members of the Garde, as told by one of soldiers sent to kill them.
Before they were hunted by the Mogs, before Number Four was next, the Garde were all just teens on an alien planet called Earth—discovering their powers, trying to stay hidden, and running for their lives. And now, their Legacies are our only hope.
The I Am Number Four series is perfect for fans of action-packed science fiction like the Fifth Wave series by Rick Yancey, the Maze Runner series by James Dashner, and Orson Scott Card's Ender's Game.
About the Author
---
Pittacus Lore is Lorien's ruling Elder. He has been on Earth preparing for the war that will decide Earth's fate. He finished recounting the story of the invasion of Earth in the I Am Number Four series and is now ready to tell another story. His whereabouts are unknown.
Praise For…
---
"Each entry in this volume is dark, surprising, and poignant. Lore's stark style fits perfectly with the plot of each piece, and readers will be left wanting more. This bold addition to the series will be popular with science fiction readers and fans of the original novel and film." — Voice of Youth Advocates (VOYA)