Among the Red Stars (Hardcover)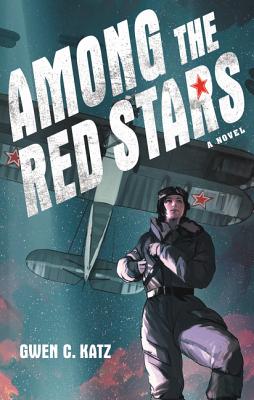 Description
---
A suspenseful historical YA debut inspired by the true story of an all-female bomber unit in Russia during World War II.
World War II has erupted in Valka's homeland of Russia, and Valka is determined to help the effort. She's a pilot—and a good one—so she eagerly joins an all-female bomber regiment. 
Flying has always meant freedom and exhilaration for Valka, but dropping bombs on German targets is something else entirely. The raids are dangerous, but as Valka watches her fellow pilots putting everything on the line in the face of treachery, she learns the true meaning of bravery.
As the war intensifies, though, and those around her fall, Valka must decide how much she is willing to risk to defend the skies she once called home.
Inspired by the true story of a famous all-female Russian bomber regiment, Gwen C. Katz weaves a tale of strength and sacrifice, of learning to fight for yourself, and of the perils of a world at war.
About the Author
---
Gwen C. Katz is a writer, artist, game designer, and retired mad scientist easily identified by her crew cut and ability to cause trouble. Originally from Seattle, she now lives in Pasadena, California, with her husband and a revolving door of transient mammals. Visit her at www.gwenckatz.com.
Praise For…
---
"For fans of Kathryn Lasky's Night Witches. Strong." — School Library Journal
"Katz is skillfully informative, interweaving historical figures and facts without losing emotional propulsion and suspense." — The Horn Book
"an intimate portrayal of the personal toll of WWII." — Publishers Weekly
"This beautiful, emotional entry into a key moment in Russian history will appeal to lovers of adventure novels, as well as historical fiction fans." — Booklist Online
"The writing style is unique and engaging...well written and an interesting presentation of history" — Voice of Youth Advocates (VOYA)