There are no products in your shopping cart.
Zach King: The Magical Mix-Up (Hardcover)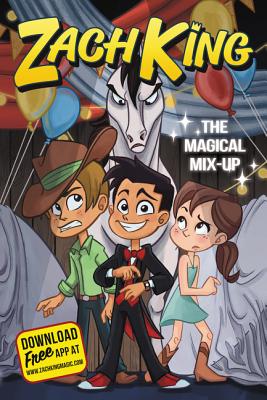 Description
---
Award-winning digital media star Zach King brings his unique brand of magic to the second installment of a lively, fun-filled trilogy about Zach, a middle schooler trying to figure out what his magical powers are while navigating the crazy, confusing world of middle school.
Zach's back for another adventure at Horace Greely Middle School. Long homeschooled, Zach's finally comfortable at public school. Even though he's missing his magical powers, he's got a best friend, a super-popular YouTube channel, and a crush on Rachel, the prettiest girl in school.
Zach is confident enough to muster up the courage to ask Rachel to the big school dance. Just as he's just about to do it, Hogan, the new kid from Australia, shows up and steals his thunder. But when Zach learns that Hogan is just using the dance as a way to embarrass Rachel and ruin her chances of becoming class president, Zach knows he has to stop him somehow.
Now Zach's on a mission to recover his magical powers in order to stop Hogan before he can sabotage Rachel's chances. For fans of Diary of a Wimpy Kid, Timmy Failure, and DanTDM: Trayaurus and the Enchanted Crystal and anyone who's ever wondered where they belong, this is the perfect book for you.
About the Author
---
Zach King is a twenty-six-year-old filmmaker who creates videos with a hint of "magic." With more than 25 million followers across his various social platforms, Zach King is one of the hottest names in digital media. He's been featured on Ellen and on the red carpet at the Academy Awards—and he's partnered with Lego, Disney, and Kellogg's to create mind-blowing videos. In 2016, Zach and his wife, Rachel, competed in The Amazing Race along with other social media superstars. Born and raised in Portland, Oregon, Zach now lives with his wife in Los Angeles, California, and has founded a multimedia production company to expand and create imaginative content for fans around the world.