We're Going to Need More Wine: Stories That Are Funny, Complicated, and True (Paperback)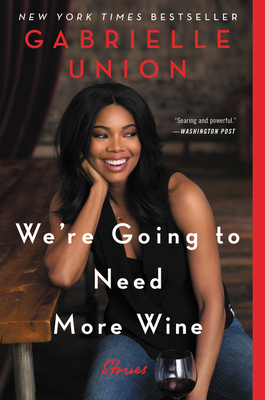 November 2017 Indie Next List
---
"I know what this book looks like, and it's true that it's a '90s celebrity's memoir. But the other parts of this book are so remarkable that to limit its description to that would be an injustice. Gabrielle Union is an honest writer and cultural critic. I'm ashamed I didn't know this until now. Her reflections on race, gender, and authenticity in an industry that values anything but are refreshing and ring true. These are the portions of the book that really sparkle on the page. Writer to reader, friend to friend, Union simply shares some of her stories, and I was glad to be a part."
— Lindsay Crist-Lawson, Joseph-Beth Booksellers, Lexington, KY
Description
---
NEW YORK TIMES BESTSELLER
Nominated for the NAACP Image Award for Outstanding Literary Work
Named a Best Book of the Year by The Root
Chosen by Emma Straub as a Best New Celebrity Memoir
"A book of essays as raw and honest as anyone has ever produced." — Lena Dunham, Lenny Letter
In the spirit of Amy Poehler's Yes Please, Lena Dunham's Not That Kind of Girl, and Roxane Gay's Bad Feminist, a powerful collection of essays about gender, sexuality, race, beauty, Hollywood, and what it means to be a modern woman.
One month before the release of the highly anticipated film The Birth of a Nation, actress Gabrielle Union shook the world with a vulnerable and impassioned editorial in which she urged our society to have compassion for victims of sexual violence. In the wake of rape allegations made against director and actor Nate Parker, Union—a forty-four-year-old actress who launched her career with roles in iconic '90s movies—instantly became the insightful, outspoken actress that Hollywood has been desperately awaiting. With honesty and heartbreaking wisdom, she revealed her own trauma as a victim of sexual assault: "It is for you that I am speaking. This is real. We are real."
In this moving collection of thought provoking essays infused with her unique wisdom and deep humor, Union uses that same fearlessness to tell astonishingly personal and true stories about power, color, gender, feminism, and fame. Union tackles a range of experiences, including bullying, beauty standards, and competition between women in Hollywood, growing up in white California suburbia and then spending summers with her black relatives in Nebraska, coping with crushes, puberty, and the divorce of her parents. Genuine and perceptive, Union bravely lays herself bare, uncovering a complex and courageous life of self-doubt and self-discovery with incredible poise and brutal honesty. Throughout, she compels us to be ethical and empathetic, and reminds us of the importance of confidence, self-awareness, and the power of sharing truth, laughter, and support.
About the Author
---
Gabrielle Union is an actress, executive producer, activist, best-selling author and most recently, a Time100 cover honoree. Union formed her production shingle "I'll Have Another" in 2018 with the goal of telling stories that center marginalized communities with their specific point of views in an authentic manner. In August of 2020, she relaunched her haircare brand "Flawless by Gabrielle Union" for women with textured hair. The new and improved collection includes an array of options, affordably priced between $4 - $10, that empowers consumers to customize a regimen specific to their texture and style preferences. Prior to relaunching Flawless, Union learned of the disparities in the food space and joined Bitsy's as a cofounder with the goal of making healthy, allergen- friendly, school-safe snacks that are accessible and affordable for all families regardless of their socioeconomic or geographical status. Her first book, We're Going To Need More Wine: Stories That Are Funny, Complicated and True, was released in 2017 and instantly became a New York Times best seller. Union serves as a leader and advocate for inclusion in the entertainment industry. She is also a champion of breast health and combating sexual violence.
Praise For…
---
"[Gabrielle Union's] written a book of essays as raw and honest as anyone has ever produced. In this fantastic book, she discusses everything from sexual assault to the complexity of money in relationships to infertility (plus all the extra gossip you crave). Gab has not only excused the demons of her two-decade career, but she's turned the exercise into primal scream therapy for her fans. As witty, warm, and assured on the page as she is in person, this book lives somewhere between Nora Ephron and Eve Babitz, with a touch of Audre Lorde's radical awareness." — Lena Dunham, Lenny Letter
"searing and powerful" — Washington Post
"We're Going to Need More Wine is a collection of funny and emotional essays...Union gets real about everything" — USA Today
"stunning...an affirmation of [Union's] uncanny insight and profound capacity for empathy." — Entertainment Weekly
"Moving" — Glamour
"[A] thought-provoking, funny, tell-it-like-it-is essay collection" — Cosmopolitan
"I have gotten the pleasure to know Gabrielle over the years and besides the fact that she loves to drink, I've always taken comfort in how much we have in common. The predilection to go from talking about the latest humiliating sexual position to a debate on politics or racism, that's exactly what this book felt like to me, an honest conversation with Gabrielle about her life. I appreciate her integrity, love her humor and openness about her life. I also love the fact that she's older than me . . . Go, girl." — Chelsea Handler, #1 New York Times bestselling author of Uganda Be Kidding Me  
"I love this woman and her book." — Mindy Kaling, #1 New York Times bestselling author of Why Not Me?
"We're Going to Need More Wine is honest, raw, and funny. Union's vulnerability about her flaws and mistakes, and also pride in her triumphs, will not only make you feel as though you're seeing yourself reflected, but will also inspire you to be your most authentic self."
— Phoebe Robinson, New York Times bestselling author of You Can't Touch My Hair
"A hilarious and moving memoir from a natural storyteller. Gabrielle Union explores love, family, trauma and racial identity in a book that somehow manages to be both heartbreakingly honest and laugh-out-loud funny." — Brit Bennett, New York Times bestselling author of The Mothers
"With honesty and humor, Union bares her soul and shares her levels of insecurity, the difficulties of being a black woman in Hollywood, and the way fame has changed her life. She embraces many multilayered issues in these intimate essays, giving readers glimpses of insight into her soul." — Kirkus Reviews
"[Gabrielle] Union is warm, outspoken, laugh-out-loud funny…This is sure to be a crowd-pleaser, and deservedly so."   — Booklist (Starred Review)
"This sparkling book collects amusing and heartbreaking stories from the life of actress Union...[her] no-holds-barred essays and intimate voice will appeal to her fans as well as those less familiar with her work." — Publishers Weekly
"Union invites readers into her world with honesty, grit, and grace. A much-needed addition to the endless catalog of celebrity memoirs."

— Library Journal (starred review)