Heretics Anonymous (Hardcover)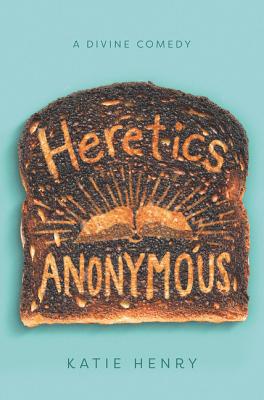 Description
---
A New York Public Library Best Book of the Year!
Put an atheist in a strict Catholic school? Expect comedy, chaos, and an Inquisition. The Breakfast Club meets Saved! in debut author Katie Henry's hilarious novel about a band of misfits who set out to challenge their school, one nun at a time. Perfect for fans of Becky Albertalli and Robyn Schneider.
When Michael walks through the doors of Catholic school, things can't get much worse. His dad has just made the family move again, and Michael needs a friend. When a girl challenges their teacher in class, Michael thinks he might have found one, and a fellow atheist at that. Only this girl, Lucy, isn't just Catholic . . . she wants to be a priest.
Lucy introduces Michael to other St. Clare's outcasts, and he officially joins Heretics Anonymous, where he can be an atheist, Lucy can be an outspoken feminist, Avi can be Jewish and gay, Max can wear whatever he wants, and Eden can practice paganism.
Michael encourages the Heretics to go from secret society to rebels intent on exposing the school's hypocrisies one stunt at a time. But when Michael takes one mission too far—putting the other Heretics at risk—he must decide whether to fight for his own freedom or rely on faith, whatever that means, in God, his friends, or himself.
About the Author
---
Katie Henry, author of Heretics Anonymous, Let's Call It a Doomsday, and This Will Be Funny Someday, is a writer living and working in New York City. She received her BFA in dramatic writing from NYU's Tisch School of the Arts and is a published playwright, specializing in theater for young audiences. Her plays have been performed by high schools and community organizations in over thirty states. You can find her online at www.katiehenrywrites.com.
Praise For…
---
"Most impressive here is Henry's multifaceted take on religion. Michael isn't searching; he know how he feels. Yet his introduction to others who feel differently—in the case of Lucy, passionately differently—opens him up. Come for the arch first-person narrative and puppy love, stay for the examination into belief." — ALA Booklist (starred review)
"Heretics Anonymous hits all the right beats. Katie Henry has crafted a thoughtful, refreshing story. In a time when it can seem like tolerance is at an all-time low, this novel...provides a potent reminder of how different perspectives can coexist peacefully." — Entertainment Weekly
"The story adeptly asks readers to question what they believe and why, without being preachy, judgmental, or dismissive. Humor interlaced with more serious ideas make for an interesting and enjoyable read. Highly recommended, especially for teens who are passionate about a cause." — School Library Journal
"In this entertaining coming-of-age story, five free-thinking students launch a clandestine campaign against their school's rigid policies and practices, with unanticipated consequences.Snappy dialogue sparkles throughout this skillfully crafted debut." — Publishers Weekly
"In addition to being a frequently hilarious comedy with its share of complicated romance, the story presents a thought-provoking look at faith, questioning but ultimately respectful of Catholicism and other beliefs, Michael's atheism included: he grows to understand why religion is important to others, but remains true to himself." — The Horn Book
"Genuine and heartfelt doctrinal questions arise in between the pranks and the conversations Michael has with his new friends, allowing both believing and nonbelieving readers to find their way into this exploration of the way feelings about family and faith intersect. A balanced perspective of possibilities of faith and skepticism." — Bulletin of the Center for Children's Books
"Hilarious, irreverent, charming, and an absolute delight! This book is everything I hoped for and more." — Robyn Schneider, bestselling author of The Beginning of Everything 
"Funny, touching, and wonderfully even-handed, Katie Henry's debut novel is a weirdo's guide to faith—in the best possible way." — Anna Breslaw, author of Scarlett Epstein Hates It Here
"Katie Henry deftly weaves a nuanced coming-of-age story with the hilarity of medieval church history, feminist theology, and the achingly real struggle of coming to terms with one's faith. I loved this book like WHOA." — Joy McCullough, author of Blood Water Paint