Grown (Hardcover)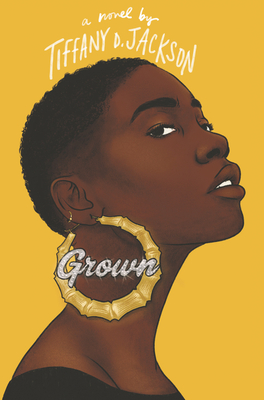 $18.99

Usually arrives at our store within 4-7 days
Fall 2020 Kids Indie Next List
---
"Tiffany Jackson has truly outdone herself with Grown, which is saying a lot as we've come to know her as one of the most brilliant storytellers in YA. But without a doubt, Grown hits at a new level. This novel is one of the most important, relevant, and utterly compelling stories of the year. It is a sharp-edged tale that both teens and adults should make space for in their to-be-read piles this year before it makes all of the award lists in the spring! Believe Black girls. Protect Black girls."
— Cristina Russell, Books & Books, Coral Gables, FL
Description
---
An instant New York Times bestseller! "Grown exposes the underbelly of a tough conversation, providing a searing examination of misogynoir, rape culture, and the vulnerability of young black girls. Groundbreaking, heart-wrenching, and essential reading for all in the #MeToo era." —Dhonielle Clayton, New York Times bestselling author of The Belles 
Award-winning author Tiffany D. Jackson delivers another riveting, ripped-from-the-headlines mystery that exposes horrific secrets hiding behind the limelight and embraces the power of a young woman's voice.
When legendary R&B artist Korey Fields spots Enchanted Jones at an audition, her dreams of being a famous singer take flight. Until Enchanted wakes up with blood on her hands and zero memory of the previous night. Who killed Korey Fields?
Before there was a dead body, Enchanted's dreams had turned into a nightmare. Because behind Korey's charm and star power was a controlling dark side. Now he's dead, the police are at the door, and all signs point to Enchanted.
"Never have I read a story that so flawlessly hits the highest high and lowest low notes of Black girlhood in pursuit of the American Dream." —Nic Stone, New York Times bestselling author of Dear Martin and Jackpot
About the Author
---
Tiffany D. Jackson is the New York Times bestselling author of Allegedly, Monday's Not Coming, Let Me Hear a Rhyme, Grown, White Smoke, The Weight of Blood, and coauthor of Blackout and Whiteout. A Walter Dean Myers Honor Book and Coretta Scott King–John Steptoe New Talent Award winner, she received her bachelor of arts in film from Howard University, earned her master of arts in media studies from the New School, and has over a decade of TV and film experience. The Brooklyn native still resides in the borough she loves. You can visit her at www.writeinbk.com.
Praise For…
---
"Tiffany D. Jackson has penned a riveting, powerful love story to Black girlhood and a haunting reminder of the ways in which their innocence is often stolen. Remarkable, suspenseful, and gut-wrenching, Grown is a masterfully told story that stays with you long after you put it down." — Angie Thomas, #1 New York Times bestselling author of The Hate U Give and On the Come Up
"With a gripping plot and punch-to-the-heart stakes, Tiffany D. Jackson's Grown exposes the underbelly of a tough conversation—the seductive abuse of older men who prey on teen girls—providing a searing examination of misogynoir, rape culture, and the vulnerability of young black girls. Groundbreaking, heart wrenching, and essential reading for all in the #MeToo era."  — Dhonielle Clayton, New York Times bestselling author of The Belles 
"This is a book that is filled to the brim with shocking twists and turns, but in 'Grown,' Jackson also centers Black girls in conversations about abuse, discussions they are so often erased from." — The New York Times Book Review
"Never have I read a story that so flawlessly hits the highest high and lowest low notes of Black girlhood in pursuit of the American Dream. Tiffany D. Jackson has done it again." — Nic Stone, #1 New York Times bestselling author of Dear Martin and Jackpot
"This heart-pounding, powerful story about a young girl trapped in a predator's web holds up a devastating mirror to our society's refusal to care about all victims. A call-out and condemnation of the celebrity-besotted culture that allows evil people to destroy lives."  — Laurie Halse Anderson, New York Times bestselling author of Shout
"Gripping in both its content and format... Jackson's writing some of the best thrillers for teens these days." — Booklist (starred review)
"Expertly juxtaposing the glamour of Enchanted's potential fame against the harshness of her private moments with Korey, Jackson builds the story gradually and painfully to an astonishing, chilling climax." — Publishers Weekly (starred review)
"Compelling; Jackson excels in writing books steeped in social commentary." — Kirkus Reviews
"In another ripped-from-the-headlines novel, Jackson takes readers through a heart-pounding thriller exploring physical, sexual, and emotional abuse, misogynoir, and rape culture... this novel is sure to initiate important conversations while delivering an engrossing story." — Horn Book Magazine
"Grown is equal parts riveting and alarming. It asks hard questions about power, innocence, and who we, as a society, see as worth saving. A captivating and cautionary page-turner." — Ashley Woodfolk, author of When You Were Everything 
"Jackson draws on the R. Kelly case to effectively depict the tightening noose of an abusive relationship, enhanced here by Korey's wealth and fame…A grim tale that shows how thin a glossy exterior can be."   — Bulletin of the Center for Children's Books
Praise for Let Me Hear a Rhyme: * "Exceptional storytelling, well-crafted, true-to-life dialogue, and the richly drawn Brooklyn landscape will draw readers into this fast-paced blend of mystery, budding romance, and social commentary...Thoroughly engrossing and as infectious as Steph's lyrics."
— Kirkus Reviews (starred review)
* "Jackson repeatedly proves that she is a titan among her peers, and her latest novel is no exception...  Jackson weaves the three points of view together seamlessly, creating richly drawn and authentically real teen characters." — ALA Booklist (starred review)
* "Deftly chronicles the timely story of bold young talent gone too soon... Jackson scores a bull's-eye with her passionate homage to black city life in the late '90s, yet it's her earnest takes on creativity, love, and loss that are timeless." — Publishers Weekly (starred review)
* "This YA novel harmonizes music and prose to create a certified literary banger." — Shelf Awareness (starred review)
* "Readers will feel connected to these teens' love of hip-hop, their loyalty to each other and their love for their community... offers moving portraits of young people... an engaging ode to '90s hip-hop and to love in many forms." — BookPage (starred review)
"With thoughtful attention to detail, Jackson offers a believable cast of Black teens immersed in a particularly rich hip-hop moment. The combination of lyricism and narrative realism is an effective mode of representing a particular sort of adolescence against the backdrops of New York City and rap music." — Bulletin of the Center for Children's Books
"Jackson presents a fast-moving, heart-pounding homage to nineties hip-hop, Brooklyn, and the power of music, love, and friendship. Readers are transported to a time when DJs and MCs rocked the parties and when word-of-mouth could make you a star." — Horn Book
"A thrilling, heart-rending, unforgettable novel." — Buffalo News
PRAISE FOR MONDAY'S NOT COMING: "A mesmerizing, punch-in-the-gut story about the power of friendship and the horrors hiding right in front of us." — Laurie Halse Anderson, author of Speak and Chains
* "This thought-provoking thriller examines issues such as abuse, gentrification, and the marginalization of people of color with nuance and sensitivity. The narrative deftly moves back and forth between past and present, building to a devastating conclusion. A spellbinding, profoundly moving choice for YA collections." — School Library Journal (starred review)
* "Jackson's sophomore novel features another ripped-from-the-headlines premise that will keep readers guessing through the final pages. Jackson's characters and their heart-wrenching story linger long after the final page, urging readers to advocate for those who are disenfranchised and forgotten by society and the system." — Publishers Weekly (starred review)
* "Jackson effortlessly weaves elements of suspense with issues of race, class, and gender, casting a harsh light on a world that often refuses to notice the disappearances of black and brown girls. The twist at the end is both gaspworthy and heartbreaking." — Bulletin of the Center for Children's Books (starred review)
"Jackson doesn't hold anything back when it comes to the pain of abuse and the ramifications of turning a blind eye. It's a frank, devastating read filled with real and flawed characters, and it's a story that needs to be read." — Booklist
"The draw of this novel, which was inspired by actual events, lies in its interwoven themes of the effects of gentrification, especially on black residents whose connections, culture, and community become afterthoughts in the face of capitalism. A tragic and heartbreaking tale of love, loss, grief, growth, and perseverance." — Kirkus Reviews
PRAISE FOR ALLEGEDLY: * "With remarkable skill, Jackson offers an unflinching portrayal of the raw social outcomes when youth are entrapped in a vicious cycle of nonparenting and are sent spiraling down the prison-for-profit pipeline. Dark, suspenseful." — School Library Journal (starred review)
* "Her novel effectively joins Ava DuVernay's documentary 13th  and Michelle Alexander's The New Jim Crow  (2010) to become another indictment of the penal system's decimating power beyond its bars and, more subtly and refreshingly, a pro-reproductive-justice novel. Searing and true." — Kirkus Reviews (starred review)
* "The characters are complex, the situation unsettling, and the line between right and wrong hopelessly blurred. It's also intensely relevant, addressing race, age, and mental illness within the criminal justice system. Well conceived and executed, this is an absorbing and exceptional first novel." — Publishers Weekly (starred review)
* "Suspenseful without being emotionally manipulative, compelling without resorting to shock value, this is a tightly spun debut that wrestles with many intense ideas and ends with a knife twist that will send readers racing back to the beginning again." — Booklist (starred review)
"Seen through Jackson's dark portrait of the legal system and the failures of parents and social workers, Mary's environments are as grim as the stories that play out in them; readers fascinated by procedural dramas will be thoroughly hooked." — Bulletin of the Center for Children's Books