Flip the Script (Paperback)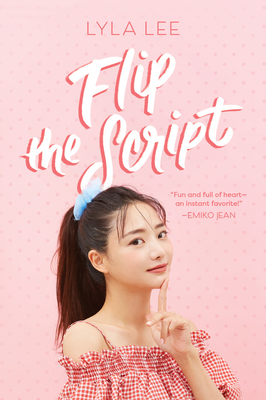 Description
---
In this simmering, joyous novel, I'll Be the One author Lyla Lee delivers a tender romance set between two brave teens who decide that when the script isn't working, it's time to rewrite it themselves.
The first rule of watching K-dramas: Never fall in love with the second lead.
As an avid watcher of K-dramas, Hana knows all the tropes to avoid when she finally lands a starring role in a buzzy new drama. And she can totally handle her fake co-star boyfriend, heartthrob Bryan Yoon, who might be falling in love with her. After all, she promised the TV producers a contract romance, and that's all they're going to get from her.
But when showrunners bring on a new lead actress to challenge Hana's role as main love interest—and worse, it's someone Hana knows all too well—can Hana fight for her position on the show, while falling for her on-screen rival in real life?
About the Author
---
Lyla Lee is the author of I'll Be the One and the Mindy Kim series for younger readers. Born in South Korea, she's since lived in various cities throughout the United States. Inspired by her English teacher, she started writing her own stories in fourth grade and finished her first novel at the age of fourteen. After studying psychology and cinematic arts at the University of Southern California and working in Hollywood, Lyla now lives in Dallas, Texas. When she's not writing, she is petting cute dogs and searching for the perfect bowl of shaved ice. You can visit her at www.lylaleebooks.com.
Praise For…
---
"The story challenges Korea's heteronormative culture and media . . . also transports readers to popular destinations in and around Seoul, beautifully highlighting Korean food and culture. A fun and boundary-pushing take on typical K-drama romances." — Kirkus Reviews
"A love letter to K-dramas with sapphic romance at the forefront. Flip the Script is fun and full of heart—an instant favorite!"  — Emiko Jean, NYT bestselling author of Tokyo Ever After
"Fans will flip for this heartwarming romance. Behind-the-scenes showbiz drama, a handsome K-pop star, fake dating, an LGBTQ twist, and an ending that made me want to stand up and cheer—there's so much to love about this book!" — Misa Sugiura, author of It's Not Like It's a Secret and This Time Will Be Different
"I don't think my heart will ever stop floating after reading Flip the Script! Lyla Lee has created the perfect blend of fake dating, young love, and queer joy that had me smiling from ear to ear and whooping in triumph. Sometimes those who say 'stick to the script' can simply stick it."  — Jason June, author of Jay's Gay Agenda and Out of the Blue

"Nothing makes me smile like a Lyla Lee book. I had a blast following Hana and her friends as they film the hottest K-Drama on television, all while falling for one another behind the scenes. Effervescent and joyous from start to finish, Flip the Script is guaranteed to put a smile on your face."  — Axie Oh, author of XOXO
"This book is a love letter to Korean culture, K-dramas in particular. This trope-filled rom-com is perfect for fans of Somewhere Only We Know by Maurene Goo, XOXO by Axie Oh, and I Guess I Live Here Now by Claire Ahn." — School Library Journal Online
"Hana and Minjee's sweet romance, behind-the-scenes peeks into K-drama productions, and richly detailed Korean culture buoy this joyous romance." — Publishers Weekly