The Coyotes of Carthage: A Novel (Paperback)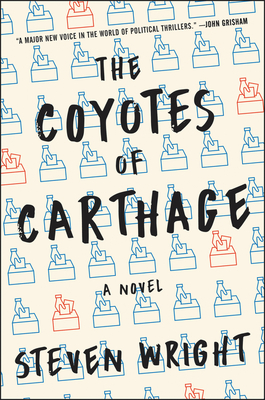 $16.99

Usually arrives at our store within 4-7 days
Description
---
SHORTLISTED FOR THE ERNEST J. GAINES AWARD FOR LITERARY EXCELLENCE

"With this splendid debut, Steven Wright announces his arrival as a major new voice in the world of political thrillers. I enjoyed it immensely." —John Grisham
A blistering and thrilling debut—a biting exploration of American politics, set in a small South Carolina town, about a political operative running a dark money campaign for his corporate clients

Dre Ross has one more shot. Despite being a successful political consultant, his aggressive tactics have put him on thin ice with his boss, Mrs. Fitz, who plucked him from juvenile incarceration and mentored his career. She exiles him to the backwoods of South Carolina with $250,000 of dark money to introduce a ballot initiative on behalf of a mining company. The goal: to manipulate the locals into voting to sell their pristine public land to the highest bidder.
Dre arrives in God-fearing, flag-waving Carthage County, with only Mrs. Fitz's well-meaning yet naïve grandson Brendan as his team. Dre, an African-American outsider, can't be the one to collect the signatures needed to get on the ballot. So he hires a blue-collar couple, Tyler Lee and his pious wife, Chalene, to act as the initiative's public face.
Under Dre's cynical direction, a land grab is disguised as a righteous fight for faith and liberty. As lines are crossed and lives ruined, Dre's increasingly cutthroat campaign threatens the very soul of Carthage County and perhaps the last remnants of his own humanity.
A piercing portrait of our fragile democracy and one man's unraveling, The Coyotes of Carthage paints a disturbingly real portrait of the American experiment in action.
About the Author
---
Steven Wright is a clinical associate professor at the University of Wisconsin-Madison Law School, where he codirects the Wisconsin Innocence Project. From 2007 to 2012 he served as a trial attorney in the Voting Section of the United States Department of Justice. He has written numerous essays about race, criminal justice, and election law for the New York Review of Books.
Praise For…
---
"Thrilling…. Wright is also an exceedingly adept satirist, and his ability to lift the curtain on the manipulation of data, criminal justice, and the sociological behavior of voters is nothing short of fascinating…. "The Coyotes of Carthage" is a political novel in all the best ways." — USA Today
"Riveting…. Those who pick up the book get a view of how the sausage of today's politics gets made…. And [Wright] does so with a ticktock pace and knockout prose…. [A] propulsive, engaging novel."   — Washington Post
"[A] darkly funny and bleakly honest debut novel about how elections are bought…. Compelling." — Salon
"Like Ozark meets Miller's Crossing.... Shocking, funny, and deeply cynical, this is the perfect political thriller to close out a truly terrible year."
— CrimeReads
"An archly comic and ultimately chilling political novel on the effects of the dark money.... Thoughtful, sharp-edged fare for the upcoming election year." — Library Journal (starred review)
"Wright explores the themes of loyalty, perception versus reality, corruption, and racism, balancing absurd situations and deep-seated issues with wry, self-deprecating humor.... A sharply contemporary Faustian tragicomedy with parallels to the TV series Scandal." — Booklist
"With this splendid debut, Steven Wright announces his arrival as a major new voice in the world of political thrillers. I enjoyed it immensely." — John Grisham
"The Coyotes of Carthage is at once timely and timeless, an astonishing and assured debut. Like two-faced Janus, it looks back at where we've been and forward to where we might be going. Steven Wright's novel should be required reading for 2020—or any year in which there's an election at any level."  — Laura Lippman
"Steven Wright's Coyotes of Carthage is a novel steeped in atmosphere and laced with menace. It's a political potboiler masking as a buddy drama, a treatise on race and class packaged as a fish-out-of-water tale. Wright's novel is what so few novels are: a page-turner with a conscience, a burner of a read with something to say. If House of Cards and True Detective made a novel, it would be Coyotes of Carthage. It's a great novel and one hell of a debut." — Wiley Cash
"This lively, observant novel is a kind of national tragicomedy of manners.  Once in a while an American political novel comes along that is part news, part satire, and everywhere full of jolts and wit.  The Coyotes of Carthage delivers all that with brilliance and verve." — Lorrie Moore
"All politics are local, but in The Coyotes of Carthage, even this small South Carolina town is at the mercy of Washington's dark money.  As a cautionary tale, Steven Wright's debut can stand beside All the King's Men and The War Room." — Stewart O'Nan, author of A Prayer for the Dying and Last Night at the Lobster
"A contemporary, character-driven, political novel dealing with timely issues."  — Emissourian