The Widely Unknown Myth of Apple & Dorothy (Hardcover)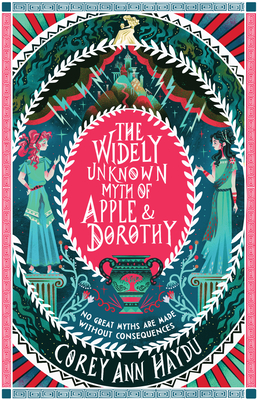 Description
---
Critically acclaimed author Corey Ann Haydu crafts a spellbinding tale following the modern-day descendants of ancient Greek gods—and how two young girls struggling against the weight of the family history end up becoming their own epic myth with large consequences.
If you could choose to be a god forever, would you do it? Every winter solstice, today's Earthly descendants of Greek gods, nymphs, and muses must visit Mount Olympus to preserve their near-godly status. Until Dorothy's mother refuses to go, sealing her fate and dying a human death shortly after. In retaliation, the gods release an ultimatum: return to the heavens as gods or live as humans on Earth. Everyone must now make a choice.
Dorothy is already at the bottom of the godly chain as the descendant of the infamous Pandora. Without her mother, the rest of Dorothy's world becomes quieter, stiller—and her grief threatens to consume her.
Apple, on the other hand, is the beloved descendant of Zeus and Hera. She is the most popular girl in school, and knows she must maintain a perfect facade, or risk ruining the family name.
The two girls couldn't be more different, but their mothers were best friends, and now they finally grow closer, too. Yet as the solstice nears, Apple's fear of losing Dorothy causes her to make a choice for herself and Dorothy that changes everything—and the consequences are great. Will the Apple and Dorothy be able to fix their friendship? Will they even choose the same path? Olympus or Earth?
About the Author
---
Corey Ann Haydu is the author of The Widely Unknown Myth of Apple & Dorothy, Eventown, Rules for Stealing Stars, One Jar of Magic, The Someday Suitcase, and the Hand-Me-Down-Magic chapter book series as well as six acclaimed books for teens. Currently she is a proud faculty member of the Vermont College of Fine Arts MFA in writing for children program. Corey grew up in the Boston area, earned her MFA at the New School, and now lives in Brooklyn with her husband and daughters. Find out more at coreyannhaydu.com. 
Praise For…
---
"It seems a simple choice: to live as a god on Olympus, or a human on earth. But the brilliance of this novel comes as Corey Ann Haydu weaves a familiar myth in unexpected ways, to show how the ways of the heart are complex beyond comprehension. An amazing story about the costs, losses, and absolute glories of friendship."  — Gary D. Schmidt, Newbery Honor Winner of The Wednesday Wars and Printz Honor Winner of Lizzie Bright and the Buckminster Boy
"Gorgeous and inventive and poetically poignant. Kids will connect deeply with Dorothy and Apple!"  — Christine Day, author of I Can Make This Promise and The Sea in Winter
"This story is tender, complex, and full of hope—emotionally messy in the best ways. A refreshingly character-driven take on Greek mythology retellings." — Kirkus Reviews
"A spirited, invigorating take on familiar legends." — Publishers Weekly
PRAISE FOR ONE JAR OF MAGIC: "The worldbuilding and magic system are enchanting and expertly crafted. The characters are richly developed and emotionally complex. Affecting and unforgettable."  — Kirkus Reviews (starred review)
"Rose's visceral pain and her hard-earned agency will be deeply felt. ­Readers who enjoy everyday magic, friendship ­stories, and family drama will be enchanted by this magic jar of a book."  — School Library Journal (starred review)
"Haydu's story is a stunner. Its magic system is inventive and imaginative, and Rose and her world are drawn with care and compassion. A carefully crafted message of hope and the sometimes-painful beauty in forging an identity all your own."  — Booklist (starred review)
"Taut underlying tension and a sympathetically flawed protagonist. Haydu deftly, and with startling clarity, portrays the presence and devastating effect of abuse on a family."  — Publishers Weekly (starred review)
"Gently honest and emotionally astute."  — Bulletin of the Center for Children's Books
"Prepare to be blown away! One Jar of Magic has the power to bruise the heart, broaden the mind--and somehow, leave an astonishing glow. A wholly original tale."  — Leslie Connor, award winning author of The Truth as Told by Mason Buttle
"One Jar of Magic is a bittersweet tale of unmet expectations and complicated relationships, but most of all, it's about finding magic inside yourself and trusting who you really are. A powerful and empowering story."  — Yamile Saied Méndez, author of On These Magic Shores 
PRAISE FOR EVENTOWN: "Would life be better if we could forget the past? That's the question Corey Ann Haydu poses in her engrossing Eventown. With its embedded questions about the consequences of erasing all your problems, Eventown will doubtless hit many a middle grade reader's sweet spot."  — New York Times Book Review
"A wonderful and inventive story about being a kid in an imperfect world—beautiful, mysterious, and deeply satisfying."  — Rebecca Stead, Newbery Medal-winning author of When You Reach Me and Goodbye Stranger
"At once enchanting, heart-rending, and bittersweet."  — Kirkus Reviews (starred review)
"An emotionally complex and wonderfully told story."  — School Library Journal (starred review)
"[A] thought-provoking novel... [A] memorable and brave heroine."  — Publishers Weekly (starred review)
"Readers will feel for the brave, unconventional Elodee, who both affirms her individuality but also feels the loneliness of it... A hope-tinged tale about the long aftermath of tragedy."  — ALA Booklist
"Haydu brings a different dimension with real poignancy... less The Giver and more Pleasantville... [Eventown] will reel in readers looking for family dramas as well as those seeking a little ideological stretching, and it will leave them with plenty to discuss about the price of walling yourself off from pain."  — Bulletin of the Center for Children's Books
"A marvelous defense of messiness, mistakes, and uncomfortable conversations ... this book is pure Eternal Sunshine of the Spotless Mind meets Pleasantville."  — Betsy Bird of Fuse 8
"Corey Ann Haydu doesn't shy away from tough topics in her books. Eventown is no exception."  — Time for Kids
"[An] original, thought-provoking and engaging novel exploring how our stories shape us and can help us heal from even the most terrible loss... Haydu offers an inspired creation in the "perfect world" of Eventown."  — Buffalo News
PRAISE FOR SOMEDAY SUITCASE: "A touch of magic, the promise of snow, and so much love I can barely keep it together to write this sentence. I know Clover and Danny will stick with me for a long, long time."  — Kate Milford, New York Times bestselling author of The Greenglass House
"Beautiful, true, and magical. This book touched my heart."  — Lauren Myracle, author of the Wishing Day series
"Quietly superb prose...Haydu doesn't romanticize illness, but she provides comfort through art, science, magic, love, and a purple suitcase. A sharp, clear-cut piece that knows life is beautiful and sickness isn't."  — Kirkus Reviews (starred review)
"Haydu does not shield readers from hard truths, creating complex characters who face difficult situations. This sensitive work will strike an emotional chord with middle-graders."  — School Library Journal
"Haydu's second middle-grade novel is poignant and powerful. A heartbreaking story about the healing power of friendship amid human fragility."  — Booklist (starred review)
"In this moving, exquisitely written story, Corey Ann Haydu explores the thin line between science and magic within an intense bond of friendship."  — Shelf Awareness (starred review)
PRAISE FOR RULES FOR STEALING STARS: "A well-crafted blend of realism and fantasy."  — School Library Journal (starred review)
"[A] lyrical story of love and loss. The way the sisters fight and love in equal measure, as well as their basic need for one another, rings poignantly true in this touching and heartwarming story, which contains a 'tiny bit of magic, right here in the real world."  — Booklist (starred review)
"Haydu makes skilled use of her story's fantastical overlay to create a haunting narrative about the ways family members can fail-but also support-each other."  — Publishers Weekly
"Haydu is a masterful wordsmith."  — Kirkus Reviews
"Tender, wise, and heartbreakingly lovely, this story is as brilliant as a stolen star, and every bit as magical. Prepare to be enchanted."  — Katherine Applegate, Newbery-award winning author of The One and Only Ivan
"A gorgeous, profound, deeply felt book that lovingly explores intricate sibling relationships, the crushing weight of family secrets, and the delicate magic of hope. Rules for Stealing Stars is sublime."  — Anne Ursu, author of Breadcrumbs and The Real Boy
"Silly and her sisters are flesh-and-bone characters; they gripped me by my very heart and pulled me into their tense and mysterious family story. With beguiling moments of magical realism and engaging turns of phrase, Corey Ann Haydu has crafted a glowing middle grade debut."  — Leslie Connor, award-winning author of Waiting for Normal and Crunch