Punching the Air (Hardcover)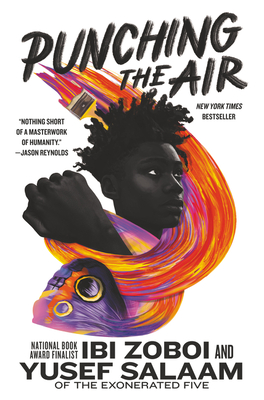 $19.99

Usually arrives at our store within 4-7 days
Fall 2020 Kids Indie Next List
---
"When 16-year-old Amal is wrongfully imprisoned, we not only witness but are swept up in verse as his world darkens with each loss. He loses dreams, friendships, and hope, and makes a final stand for his humanity. The depth of his pain and the betrayal of educators in his life who are supposed to support him is so palpable that, at times, I had to put it down. The beauty comes when his art and self-expression become his salvation. This book is a window that every educator — and, really, every reader — should be made to look through."
— Destinee Hodge, East City Bookshop, Washington, DC
Description
---
New York Times and USA Today bestseller * Boston Globe-Horn Book Honor * Walter Award Winner * Goodreads Finalist for Best Teen Book of the Year * Time Magazine Best Book of the Year * Publishers Weekly Best Book of the Year * Shelf Awareness Best Book of the Year * School Library Journal Best Book of the Year * Kirkus Best Book of the Year * New York Public Library Best Book of the Year
From award-winning, bestselling author Ibi Zoboi and prison reform activist Yusef Salaam of the Exonerated Five comes a powerful YA novel in verse about a boy who is wrongfully incarcerated. A must-read for fans of Jason Reynolds, Walter Dean Myers, and Elizabeth Acevedo.
The story that I thought
was my life
didn't start on the day
I was born 
Amal Shahid has always been an artist and a poet. But even in a diverse art school, because of a biased system he's seen as disruptive and unmotivated. Then, one fateful night, an altercation in a gentrifying neighborhood escalates into tragedy. "Boys just being boys" turns out to be true only when those boys are white. 
The story that I think
will be my life 
starts today
Suddenly, at just sixteen years old, Amal is convicted of a crime he didn't commit and sent to prison. Despair and rage almost sink him until he turns to the refuge of his words, his art. This never should have been his story. But can he change it? 
With spellbinding lyricism, award-winning author Ibi Zoboi and prison reform activist Yusef Salaam tell a moving and deeply profound story about how one boy is able to maintain his humanity and fight for the truth in a system designed to strip him of both.
About the Author
---
Ibi Zoboi holds an MFA from Vermont College of Fine Arts. Her novel American Street was a National Book Award finalist and a New York Times Notable Book. She is also the author of Pride and My Life as an Ice Cream Sandwich, a New York Times bestseller. She is the editor of the anthology Black Enough. Born in Haiti and raised in New York City, she now lives in New Jersey with her husband and their three children. You can find her online at ibizoboi.net.
Dr. Yusef Salaam was just fifteen years old when his life was upended after being wrongly convicted with four other boys in the "Central Park jogger" case. In 2002, after the young men spent years of their lives behind bars, their sentences were overturned. Now known as the Exonerated Five, their story has been documented in the award-winning film The Central Park Five by Ken Burns, Sarah Burns, and David McMahon and in Ava DuVernay's highly acclaimed series When They See Us. Yusef is now a poet, activist, and inspirational speaker. He is the recipient of a Lifetime Achievement Award from President Barack Obama, among other honors. He lives in Atlanta, Georgia, with his wife, Sanovia, and their children. You can find him online at www.yusefspeaks.com.

Praise For…
---
"This book will be Walter Dean Myers's Monster for a new generation of teens. An important, powerful, and beautiful novel that should be an essential purchase for any library that serves teens." — School Library Journal (starred review)
"Awardworthy. Soul-stirring. A must-read."  — Kirkus Reviews (starred review)
"Prescient and sobering, Zoboi's book is a vital story for young readers in a tumultuous time." — Booklist (starred review)
"The sympathetic, nuanced portrayal of this young man will have readers holding out hope until the novel's end." — Horn Book (starred review)
"Zoboi and Salaam together craft a powerful indictment of institutional racism and mass incarceration through the imagined experience of Amal, a Black, Muslim 16-year-old facing imprisonment." — Publishers Weekly (starred review)
"A mesmerizing novel-in-verse. The poems—sharp, uninhibited and full of metaphors and sensory language—quickly establish Amal's voice, laying bare the anger, despair, hope and talent it holds. Amal's experience of abuse by the system, as well as his peers', incites raw outrage, but his artistic self-expression offers a subtle yet significant kind of hope. It is a hope borne of anger, that knows the full depths of injustice and still dreams of a better future."
— Shelf Awareness (starred review)
"A wrenching novel whose story, told in verse, is both urgent and heartbreakingly familiar....Amal's name is the Arabic word for 'hope.' That is what this book ultimately offers, too. Everyone should read it." — New York Times Book Review
"Punching the Air highlights that wrongful convictions, the school-to-prison pipeline and the fear mongering of Black bodies is etched in the United States Constitution itself, ironically in the Thirteenth Amendment that criminalizes slavery but simultaneously creates an entirely new system of enslavement: the American prison system. It is not easy to break these topics down to adults, never mind children. But Punching the Air does so effectively through verse that feels honest and clear." — USA Today
"Amal's voice is often poetic and compelling, and the details of life in NYC juvie are laceratingly vivid. An engaging and accessible read sure to provoke discussion, perhaps in conjunction with a factual exploration of Salaam's own experiences or in partnership with Myers' Monster." — Bulletin of the Center for Children's Books
"Stories, at their best, will break something old in you or build something new. Remarkably, Punching The Air does both. Zoboi and Salaam have created nothing short of a masterwork of humanity, with lyrical arms big enough to cradle the oppressed, and metaphoric teeth sharp enough to chomp on the bitter bones of racism. This is more than a story. This is a necessary exploration of anger, and a radical reflection of love, which ultimately makes for an honest depiction of what it means to be young and Black in America."
— Jason Reynolds, award-winning, bestselling author of Long Way Down
"Punching the Air is the profound sound of humanity in verse. About a boy who uses his creative mind to overcome the creativity of racism. About a boy who uses the freedom of art to overcome his incarceration. About you. About me. Utterly indispensable." — Ibram X. Kendi, National Book Award-winning and #1 New York Times bestselling author
"In this beautifully rendered book, we are reminded again of how brilliant and precarious our Black Lives are and how art can ultimately heal us." — Jacqueline Woodson, award-winning, bestselling author of Brown Girl Dreaming
Praise for BLACK ENOUGH: "A poignant collection of stunning short stories by Black, rock star authors" — Booklist (starred review)
"A breath of fresh air…nuanced and necessary." — Kirkus Reviews (starred review)
"Each entry is deftly woven and full of such complex humanity that teens will identify with and see some of their own struggles in these characters... This collection presents the beauty of black humanity in all its many forms." — School Library Journal (starred review)
"The stories, all worth savoring, share a celebratory outlook on black teenagers fully and courageously embracing life." — Publishers Weekly (starred review)
Praise for PRIDE: "This Bushwick-set, contemporary retelling of Jane Austen's Pride and Prejudice tackles gentriciation, Blackness, and romance with honesty, humor, and heart. This excellent coming-of-age take on a classic belongs on all YA shelves." — School Library Journal (starred review)
"Stands solidly on its own while cleverly paralleling Austen's classic… in a contemporary story about race, gentrification, and young love" — Publishers Weekly (starred review)
Praise for AMERICAN STREET: "Self-assured, elegant and utterly captivating." — New York Times
"Mixing gritty street life with the tenderness of first love, Haitian Vodou, and family bonds, the book is at once chilling, evocative, and reaffirming." — Publishers Weekly (starred review)
"Filling her pages with magic, humanity, tragedy, and hope, Zoboi builds up, takes apart, and then rebuilds an unforgettable story. This book will take root in readers' hearts." — Kirkus Reviews (starred review)
"Zoboi's stunning debut intertwines mysticism and love with grit and violence…Fierce and beautiful." — Booklist (starred review)
"Will reach young readers regardless of their background." — Bulletin of the Center for Children's Books (starred review)
"A breathtaking story about contemporary America that will serve as a mirror to some and a window for others, and it will stay with anyone who reads it." — School Library Journal (starred review)