Switch Craft: The Hidden Power of Mental Agility (Paperback)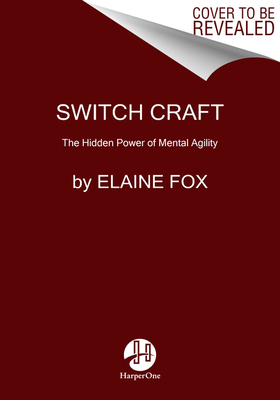 Description
---
"In clear and accessible language, Elaine Fox shows how psychological science can help you to be agile in meeting challenges and to be flexible when things change. Drawing on personal experience and years of applying her research in coaching elite performance, she shows how adopting a few key skills can transform your life in profound ways. A book full of important insights."—Mark Williams, Professor Emeritus of Clinical Psychology University and coauthor of the international bestseller Mindfulness: An Eight Week-Plan for Finding Peace in a Frantic World
"Switch Craft is a fascinating book, packed full of practical advice on how to help you survive and thrive in an uncertain world. Written by a leading academic, it offers real insights in how to cope with the stresses and strains of a post-covid world."—Michael Mosley, New York Times bestselling author and science journalist
Discover how expanding and improving your mental agility—your ability to flex your thoughts, feelings, and actions—can transform your life, bolster your resilience, and foster your zest for living.
Endless self-help approaches claim to have the answer. It's important to be mindful, we are told, and to stay in the moment. Sometimes, we are advised to keep going no matter what, to be 'gritty'. Others tell us that adopting a 'growth mindset' is key.
However, the truth is that there is no one-size-fits-all solution to dealing with life. Elaine Fox, one of the world's leading psychologists and performance coaches, has witnessed this time and again. In her work coaching top athletes, military leaders and business professionals, she has seen that it's the people who know how and when to switch between different approaches - people who have an agile mind - who achieve the best performance.
Drawing on 25 years of scientific research, Fox shares with us her step-by-step guide to what she calls 'switchcraft': the set of skills we need to navigate a complex and uncertain world. Whether it's coping with a difficult boss, overcoming a fear, dealing with hyperactive children, resolving a dispute with a friend or making a difficult choice about where to live or what to do, switchcraft helps us thrive in any situation.
Like your own personal life coach, Switch Craft shows you how to break out of a rigid mindset to restore your fulfilment, curiosity and zest for life.
About the Author
---
Elaine Fox, PhD is a psychologist, author, and the Head of the School of Psychology at the University of Adelaide, Australia. Prior to her move to Australia, Dr. Fox founded and directed the Oxford Centre for Emotions & Affective Neuroscience (OCEAN) at the University of Oxford, a renowned research center exploring the nature of resilience and mental wellbeing. A cognitive psychologist by training, she is a leading mental health researcher combining genetics, psychology, and neuroscience in her work. Dr. Fox also runs Oxford Elite Performance, a consulting group bringing cutting-edge science and psychology to those at the top levels of sport, business, and the military. Her 2012 book Rainy Brain, Sunny Brain is an international bestseller.
Praise For…
---
"Switch Craft is a fascinating book, packed full of practical advice on how to help you survive and thrive in an uncertain world. Written by a leading academic, it offers real insights in how to cope with the stresses and strains of a post-covid world" — Michael Mosley, New York Times bestselling author and science journalist
"A book full of important insights. In clear and accessible language, Elaine Fox shows how psychological science can help you to be agile in meeting challenges and to be flexible when things change. Drawing on personal experience and years of applying her research in coaching elite performance, she shows how adopting a few key skills can transform your life in profound ways." — Mark Williams, co-author of Mindfulness: An Eight-Week Plan for Finding Peace in a Frantic World and Professor Emeritus of Clinical Psychology University of Oxford