Dog's Best Friend: The Story of an Unbreakable Bond (Paperback)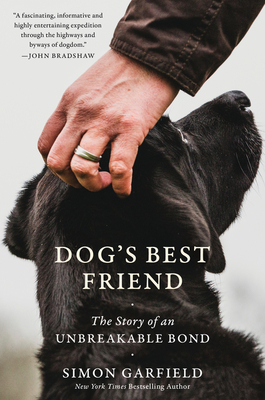 $17.99

Usually arrives at our store within 4-7 days
Description
---
"A fascinating, informative and highly entertaining expedition through the highways and byways of dogdom." —John Bradshaw, New York Times bestselling author of Dog Sense
A charming meditation on the relationship between humans and dogs, drawing upon history, science, art, and personal experience to illuminate a magical bond that has endured millennia—from the New York Times bestselling author of Just My Type.

"Ludo is now an elderly gentleman, and we would do almost anything to ensure his continued happiness. We schedule our days around his needs—his mealtimes, his walks, the delivery of his life-saving medication (he has epilepsy, poor love). We spend a bizarrely large amount of our disposable income on him, and he never sends a card of thanks. When he's not with us for a few days, the house feels extraordinarily empty. I feel so fortunate to know him."
Ludo is a dog—Simon Garfield's beloved black Labrador retriever, one of millions of canines who have become integral parts of our lives. But how did the dog become top dog? How did these faithful animals come to assist us not only in hunting, but in bomb disposal and cancer detection—and ultimately become our closest companions? Dog's Best Friend examines how this bond developed over the centuries, and how it has transformed countless lives, both human and canine.
Garfield begins with the earliest visual representations—dogs depicted in ancient rock art—and ends at the laboratory that first sequenced the canine genome. Along the way, we meet the legendary Corgis of Buckingham Palace, the dogs of the Soviet space program, the world's first labradoodle, and a border collie that can identify more than a thousand different plush toys. Garfield reveals the secrets of the world's best dog trainers, takes us inside the wild world of dog breeding and dog shows, and unearths the deep psychological roots of the human-dog link. And Ludo pops his snout in from time to time as well.
A celebration of this deep interspecies connection, delivered with Simon Garfield's inimitable wit, Dog's Best Friend offers delights and insights for anyone who has ever loved a dog.
About the Author
---
Simon Garfield is the New York Times bestselling author of more than a dozen acclaimed books of nonfiction including Timekeepers, To the Letter, On the Map, and Just My Type. A recipient of the Somerset Maugham Award for nonfiction, he lives in London.
Praise For…
---
"In this well-researched and absorbing narrative, written with the same enthusiasm that characterized Just My Type and On the Map, Garfield explores the human-dog relationship with humor, intelligence, and warmth. ... A dog fancier's delight." — Kirkus Reviews
"If you have a dog in your life, Simon Garfield's Dog's Best Friend will make you laugh with recognition, cry at the pity of it all, and leave you feeling like you've just had your belly rubbed. As refreshing and restorative as a good walk." — D. D. Guttenplan, Editor, The Nation
"A witty celebration of the long-lasting dog/human relationship." — The Times (UK)
"Wryly written, with footnotes that are a treat in themselves, this will be happily devoured by all readers who love dogs." — Booklist
"A glorious new celebration of man's best friend. ... [A] moving and invigorating study of all things canine." — Daily Mail (UK)
"Will be happily devoured by all readers who love dogs." — Booklist
"Witty, probing, and spot-on. … With emotional acuity, Dog's Best Friend leaves the reader acknowledging that Canis lupus familiaris will always be a mixed bag of ancestry and characters while maintaining an unflinching connection with us." — American Kennel Club
"A personal, charming look at our relationship with dogs throughout history." — The Goshen News
"Dog's Best Friend is as fascinating, funny and wise as we've come to expect from Simon Garfield. More than that, it's a book that asks profound questions about what it means to be canine."  — ANDY MILLER, author of The Year of Living Dangerously
"A fascinating, informative and highly entertaining expedition through the highways and byways of dogdom."  — JOHN BRADSHAW, New York Times bestselling author of Dog Sense
"Entertaining, insightful." — Oneonta Daily Star
"This engaging study, by turns wry, ironic and poignant, goes from prehistory to now. By the end – even though the dog comes when you call – you wonder who really is in charge." — Sydney Morning Herald