Mika in Real Life: A Good Morning America Book Club PIck (Large Print / Paperback)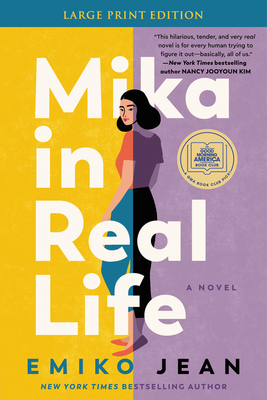 $29.99

Usually arrives at our store within 4-7 days
Description
---
A GOOD MORNING AMERICA and READ WITH MARIE CLAIRE BOOK CLUB PICK!
Named a best book by Glamour, Marie Claire, TIME, Good Housekeeping, Cosmopolitan, and more!
From New York Times bestselling Emiko Jean, a whip-smart, laugh-out-loud funny, and utterly heartwarming novel about motherhood, daughterhood, and love—how we find it, keep it, and how it always returns.
One phone call changes everything. 
At thirty-five, Mika Suzuki's life is a mess. Her last relationship ended in flames. Her roommate-slash-best friend might be a hoarder. She's a perpetual disappointment to her traditional Japanese parents. And, most recently, she's been fired from her latest dead-end job.  
Mika is at her lowest point when she receives a phone call from Penny—the daughter she placed for adoption sixteen years ago. Penny is determined to forge a relationship with her birth mother, and in turn, Mika longs to be someone Penny is proud of. Faced with her own inadequacies, Mika embellishes a fact about her life. What starts as a tiny white lie slowly snowballs into a fully-fledged fake life, one where Mika is mature, put-together, and successful in love and her career. 
The details of Mika's life might be an illusion, but everything she shares with curious, headstrong Penny is real: her hopes, dreams, flaws, and Japanese heritage. The harder-won heart belongs to Thomas Calvin, Penny's adoptive widower father. What starts as a rocky, contentious relationship slowly blossoms into a friendship and, over time, something more. But can Mika really have it all—love, her daughter, the life she's always wanted? Or will Mika's deceptions ultimately catch up to her? In the end, Mika must face the truth—about herself, her family, and her past—and answer the question, just who is Mika in real life? 
Perfect for fans of Rebecca Serle and Jojo Moyes, Mika in Real Life is at once a heart-wrenching and uplifting novel that explores the weight of silence, the secrets we keep, and what it means to be a mother.
About the Author
---
Emiko Jean is the author of Tokyo Ever After, Empress of all Seasons, and We'll Never be Apart. When Emiko is not writing, she is reading. Most of her friends are imaginary. Before she became a writer she was an entomologist (fancy name for bug catcher), a candle maker, a florist, and most recently a teacher. She lives in Washington with her husband and children (unruly twins). She loves the rain. You may find her at emikojean.com or on Instagram at emikojeanbooks.
Praise For…
---
"A poignant coming-of-age story that deals with race, adoption, and bodily autonomy." — Marie Claire, A ReadWithMC pick (September 2022)
"Tender and profound, Emiko Jean's writing had me laughing, crying, and cheering for Mika in Real Life." — Lauren Kate, #1 New York Times bestselling author By Any Other Name
"Bighearted, sometimes bawdy, and always brave, Mika in Real Life explores the inescapable bonds between mothers and daughters, the enduring families by friendship that we make, and the weight of secrets that keep us from creating ourselves. This hilarious, tender, and very real novel is for every human trying to figure it out—basically, all of us." — Nancy Jooyoun Kim, New York Times bestselling author
"With warmth, humor, and heart, Mika in Real Life explores the challenges and complexities of mother-daughter relationships in their many different forms." — Nikki Erlick, New York Times bestselling author of The Measure
"Touching and heartfelt, Jean captures the essence of mothers and daughters, the nuances that make a family, and where we've come from and where we're going. Sharp and brimming with heart, this tender read will have you alternating between laughter and tears (the very best kind) and missing the characters long after the last page. Mika In Real Life is a sheer delight to read. " — Rochelle Weinstein, bestselling author of This Is Not How It Ends
"Mika's story is a beautiful exploration of the bond between mother and child... As Mika rescues herself from a downward spiral of heartbreak and loss, she weaves for us a primer on healing our broken relationships. A must read for anyone who's ever had a mother or been one." — Annabel Monaghan, author of Nora Goes Off Script
"Mika In Real Life is a poignant and compelling exploration of identity, love, and what it means to be a mother. Mika and Penny swept me along on their emotional and unforgettable journey... By turns hilarious and heartbreaking, this is a total joy of a read." — Holly Miller, author of The Sight of You
"A wonderful, life-affirming story about second chances, parenthood and love. By turns tender, funny, and deeply romantic, I was rooting for Mika, Penny and Thomas." — Lauren Ho, author of Lucie Yi Is Not A Romantic and Last Tang Standing
"A beautiful tale of love, trust and forgiveness." — Good Housekeeping
"Definitely 'best books of 2022' material." — Glamour
"Mika in Real Life has heart, and it touched mine."
— Associated Press
"Mika in Real Life is the kind of book that will surely get you back into reading." — Shondaland
"Jean gives us authentic characters, a lot of laughs, and a chance to see our own relationships—with our mothers, our children, and ourselves—in a new and refreshing light." — Amazon Book Review
"Jean gently balances the comedy of Mika juggling her fabrications with the complicated nature of adoption, ultimately offering readers a book that's sure to make them laugh, cry, and hug when it's over. Mika in Real Life is a moving blend of humor and heart." — Bust Magazine
"Jean (Tokyo Ever After, 2021) sets her novel within the Asian American community of Portland, Oregon. Her characters are modern and honest, and the romance is realistic. Smart, funny, and affecting." — Booklist (starred review)
"The story captures disappointments, forgiveness and unconditional connection, all complicated by differences in culture and race. Jean's persuasive characters excel in vivacious banter and vulnerable reveals, populating a rewarding narrative about crucial learning and absolute loving."  — Shelf Awareness
"...a heartfelt story about the bonds between mothers and daughters." — BookBub
"This is a perfect summer read that will leave you wishing you could stay in Mika's world forever." — Soapberry
"Mika didn't just bust the model minority myth, she ran it over with a Mack truck." — The Daily Waffle