Haru, Zombie Dog Hero (Hardcover)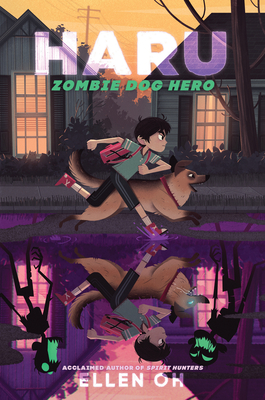 Description
---
"Tender character relationships between both pup and human, and the myriad fully realized animals Haru meets along his journey, combine for a multilayered and thoroughly heartfelt must-read."—Publishers Weekly (starred review)
"Oh covers heavy, relevant topics in this tense middle-grade novel, informing young readers about animal cruelty, environmental pollution caused by biotechnology facilities, and racial microaggressions within social-economic classes." —Bulletin of the Center for Children's Books
Ellen Oh of Spirit Hunters delivers this spooky middle grade novel about the friendship between a Korean American boy and his dog, Haru—who becomes a zombie! Fans of Frankenweenie will enjoy this scary yet heartwarming read.
Even though the world is changing and zombie attacks are on the rise, the bond between this boy and his dog remains strong, and when their town is threatened, Haru must rescue them all. Winner of the Asian/Pacific American Award Honor for Children's Literature, Ellen Oh delivers another standout story.
Eleven-year-old Luke and his dog, Haru, are the best of friends. Totally inseparable. But when their nasty landlord falsely accuses Haru of biting her, Haru is kidnapped!
As Luke and his friends go on a serious mission to find and bring Haru home again, they discover mysterious experiments happening at the old laboratory at Painted Lake, owned by an evil multibillionaire named Mr. Thomas Sinclair. And Luke and his friends soon fear that Sinclair's scientists could be doing illegal testing that may endanger Haru and their whole town.
As more strange clues emerge, the boys realize their world is changing fast, and soon Painted Lake is plagued by zombie attacks. But the love between Luke and Haru endures, ultimately helping to save them all.
About the Author
---
Ellen Oh is the cofounder of We Need Diverse Books and author of the award-winning Spirit Hunters series for middle grade readers and the Prophecy trilogy (Prophecy, Warrior, and King) for young adults. Originally from New York City, Ellen is a former adjunct college instructor and lawyer with an insatiable curiosity for ancient Asian history. Ellen lives in Bethesda, Maryland, with her husband and three children and has yet to satisfy her quest for a decent bagel. You can visit her online at ellenoh.com.
Praise For…
---
"Tender character relationships between both pup and human, and the myriad fully realized animals Haru meets along his journey, combine for a multilayered and thoroughly heartfelt must-read." — Publishers Weekly (starred review)
"Oh covers heavy, relevant topics in this tense middle-grade novel, informing young readers about animal cruelty, environmental pollution caused by biotechnology facilities, and racial microaggressions within social-economic classes." — Bulletin of the Center for Children's Books