The School for Good and Evil: The Collector's Edition (Hardcover)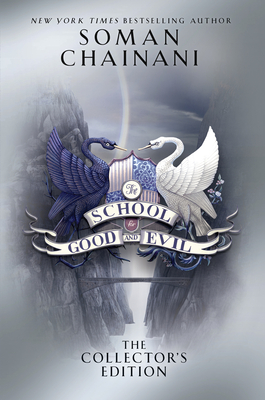 Other Books in Series
This is book number 1 in the School for Good and Evil series.
Description
---
Celebrate ten years of adventures in the Endless Woods with this deluxe collector's edition of The School for Good and Evil by Soman Chainani! This edition includes a four-color reversible jacket and extensive new content from Soman featuring your favorite characters from the series.
The New York Times bestselling The School for Good and Evil is an epic journey into a dazzling new world, where the only way out of a fairy tale is to live through one. Start here to follow Sophie, Agatha, and everyone at school from the beginning!
With her glass slippers and devotion to good deeds, Sophie knows she'll earn top marks at the School for Good and join the ranks of past students like Cinderella, Rapunzel, and Snow White. Meanwhile, Agatha, with her shapeless black frocks and wicked black cat, seems a natural fit for the villains in the School for Evil.
The two girls soon find their fortunes reversed—Sophie's dumped in the School for Evil to take Uglification, Death Curses, and Henchmen Training, while Agatha finds herself in the School for Good, thrust among handsome princes and fair maidens for classes in Princess Etiquette and Animal Communication.
But what if the mistake is actually the first clue to discovering who Sophie and Agatha really are?
THE SCHOOL FOR GOOD AND EVIL is the #1 movie now streaming on Netflix—starring Academy Award winner Charlize Theron, Kerry Washington, Laurence Fishburne, Michelle Yeoh, Sofia Wylie, Sophie Anne Caruso, Jamie Flatters, Earl Cave, Kit Young, and many others!
About the Author
---
Soman Chainani is the New York Times bestselling author of the School for Good and Evil series. The fairy-tale saga has sold over 3 million copies, been translated into 31 languages, and will soon be a major motion picture from Netflix, which Soman will executive produce. His most recent book, Beasts and Beauty: Dangerous Tales, was also an instant New York Times bestseller and is in development to be a television series from Sony 3000.
Soman is a graduate of Harvard University and received his MFA in film from Columbia University. Every year, he visits schools around the world to speak to kids and share his secret: that reading is the path to a better life.
You can visit Soman at www.somanchainani.com.
Iacopo Bruno is a graphic designer and illustrator. He is also the illustrator of the acclaimed books Mesmerized: How Ben Franklin Solved a Mystery that Baffled All of France and Anything But Ordinary Addie, both by Mara Rockliff. He lives and works in Milan, Italy, with his wife, Francesca. Learn more about Iacopo at www.theworldofdot.com and www.iacopobruno.blogspot.it.
Praise For…
---
Invention in overdrive…The School for Good and Evil is a comedic education by a writer primed to shoot to the head of the class. — Gregory Maguire, author of Wicked and Matchless
"Rich and strange." — Kirkus Reviews
"A fairy tale like no other, complete with romance, magic, humor, and a riddle that will keep you turning pages until the end." — Ann M. Martin, author of the bestselling Babysitter's Club series
"Chainani has imagined the world where fairy tales come to life, where for every fairy princess with a 'Happily Ever After' in her future there is a villain with a tragic fate in store. But in The School for Good and Evil it's not always certain which is which." — David Magee, screenwriter of Life of Pi and Finding Neverland
"In Chainani's richly imagined world the action never lets up for a nano-second. Young readers won't be able to stop turning the pages till they reach the surprising and satisfying conclusion." — Tor Seidler, author of Mean Margaret, a National Book Award Finalist
"Chainani takes the racing energy of Roald Dahl's language and combines it with the existential intensity of J.K. Rowling's plots to create his own universe. THE SCHOOL FOR GOOD AND EVIL uses the sorcery of words and the poetry of friendship to startle, enchant, and keep us turning pages." — Maria Tatar, Chair of Folklore and Mythology Program, Harvard University and Editor of The Classic Fairy Tales
"Wow. From the very first sentence, you know you're entering a thrilling world of strange fantasy... A wild and dangerous fairy tale ride. I loved this book." — R. L. Stine, author of the bestselling Goosebumps series
"[A] whip-smart debut...If I could bewitch you all to read it, I would. Grade: A." — Entertainment Weekly