The Post-Traumatic Stress Disorder Sourcebook, Revised and Expanded Second Edition: A Guide to Healing, Recovery, and Growth (Paperback)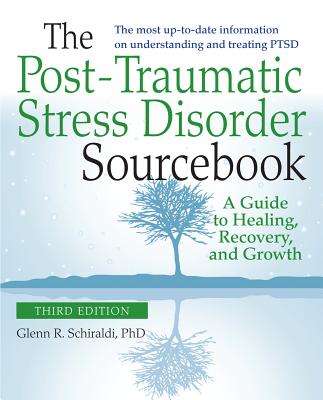 $26.00

Usually arrives at our store within 4-7 days
Description
---
How millions of PTSD suffers learned to live without fear, pain, depression, and self-doubt
The Post-Traumatic Stress Disorder Sourcebook, Revised and Expanded Second Edition introduces survivors, loved ones, and helpers to the remarkable range of treatment alternatives and self-management techniques available today to break through the pain and realize recovery and growth.
This updated edition incorporates all-new diagnostics from the DSM-5 and covers the latest treatment techniques and research findings surrounding the optimization of brain health and function, sleep disturbance, new USDA dietary guidelines and the importance of antioxidants, early childhood trauma, treating PTSD and alcoholism, the relationship between PTSD and brain injury, suicide and PTSD, somatic complaints associated with PTSD, and more.
About the Author
---
Glenn R. Schiraldi, PhD, Lt. Col. (USAR, Ret.), has served on the stress management faculties at the Pentagon, the International Critical Incident Stress Foundation, and the University of Maryland, where he received the Outstanding Teaching Award and other teaching and service awards. His books on stress-related topics have been translated into fifteen foreign languages and include: The Resilience Workbook: The Self-Esteem Workbook; Ten Simple Solutions for Building Self-Esteem; The Post-Traumatic Stress Disorder Sourcebook; The Anger Management Sourcebook; and World War II Survivors: Lessons in Resilience. Glenn's writing has been recognized by various scholarly and popular sources, including The Washington Post, American Journal of Health Promotion, Mind/Body Health Review, and the International Stress and Tension Control Society Newsletter. He has trained laypersons and clinicians around the world on various aspects of resilience and trauma, with the goal of optimizing mental health and performance while preventing and promoting recovery from stress-related conditions. His skills-based mind/body courses at the University of Maryland have been found to improve resilience, self-esteem, optimism, happiness, and curiosity, and reduce depression, anxiety, and anger. He has served on the editorial board of The International Journal of Emergency Mental Health and Human Resilience, and the board of directors of the Depression and Related Affective Disorders Association.