The Content Advantage (Clout 2.0): The Science of Succeeding at Digital Business Through Effective Content (Voices That Matter) (Paperback)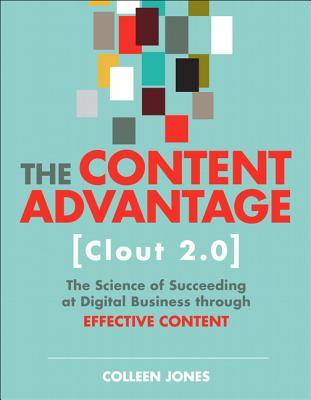 Description
---
In
The Content Advantage (Clout 2.0): The Science of Succeeding at Digital
Business Through Effective Content,
expert Colleen Jones argues that in the age of digital disruption, your company faces an important choice. The choice is not whether to do content. Every business function-from marketing to sales and from support to recruiting-demands content. The choice is whether to make your approach to content strategic and, consequently, an advantage.
This book, which is the second edition of the pioneering content book Clout, offers a modernized and comprehensive approach for planning, creating, delivering, and optimizing content that will make your business thrive. Executives and practitioners alike will find value in this book as they face increasing pressure to deliver the right content to the right customers at the right time. Drawing on her in-the-trenches experience with organizations ranging from the Fortune 50 to small and medium businesses to government and nonprofits, Jones offers:
Guidance on creating a content vision
A primer on conducting content analysis
Techniques for developing a competitive content strategy
Elements and principles of effective, influential content
A blueprint for developing content intelligence
A maturity model for content operations
Examples from diverse companies and contexts
About the Author
---
Colleen Jones is the head of content at MailChimp, the marketing automation company recognized by Inc. as 2017 Company of the Year. A content expert and Star Wars fan, Colleen is also the founder of Content Science, a content strategy and intelligence firm where she advised or trained hundreds of the world's leading organizations to become Jedi Masters of digital content, including six of the Fortune 50 and five of the largest US web properties. A passionate entrepreneur, Colleen led Content Science to develop products, such as ContentWRX, that are empowering brands from American Cancer Society to AT&T to make content effective. Colleen has been named a Content Change Agent by Intercom magazine as well as one of the Top 50 Content Strategists and one of the Top 50 Content Marketers by multiple organizations.