Microsoft Excel Data Analysis and Business Modeling (Office 2021 and Microsoft 365) (Business Skills) (Paperback)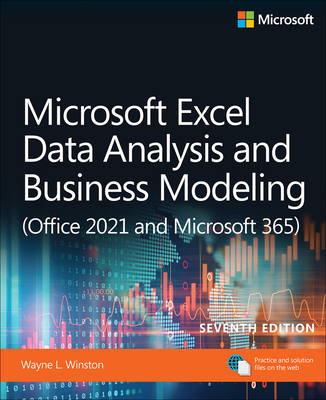 $49.99

Usually arrives at our store within 4-7 days
Description
---
Master business modeling and analysis techniques with Microsoft Excel and transform data into bottom-line results. Award-winning educator Wayne Winston's hands-on, scenario-focused guide helps you use today's Excel to ask the right questions and get accurate, actionable answers. More extensively updated than any previous edition, new coverage ranges from one-click data analysis to STOCKHISTORY, dynamic arrays to Power Query, and includes six new chapters. Practice with over 900 problems, many based on real challenges faced by working analysts.
Solve real problems with Microsoft Excel--and build your competitive advantage
Quickly transition from Excel basics to sophisticated analytics
Use recent Power Query enhancements to connect, combine, and transform data sources more effectively
Use the LAMBDA and LAMBDA helper functions to create Custom Functions without VBA
Use New Data Types to import data including stock prices, weather, information on geographic areas, universities, movies, and music
Build more sophisticated and compelling charts
Use the new XLOOKUP function to revolutionize your lookup formulas
Master new Dynamic Array formulas that allow you to sort and filter data with formulas and find all UNIQUE entries
Illuminate insights from geographic and temporal data with 3D Maps
Improve decision-making with probability, Bayes' theorem, and Monte Carlo simulation and scenarios
Use Excel trend curves, multiple regression, and exponential smoothing for predictive analytics
Use Data Model and Power Pivot to effectively build and use relational data sources inside an Excel workbook
About the Author
---
Wayne L. Winston is Professor Emeritus of Decision Sciences at the Indiana University School of Business. He has also taught at the University of Houston and Wake Forest. He has won more than 40 teaching awards and taught Excel modeling and analytics at many Fortune 500 companies, accounting firms, the U.S. Army, and the U.S. Navy. He is a two-time Jeopardy! champion, and also is a co-developer of a player tracking system utilized by Mark Cuban and the Dallas Mavericks.