The Secret History (Paperback)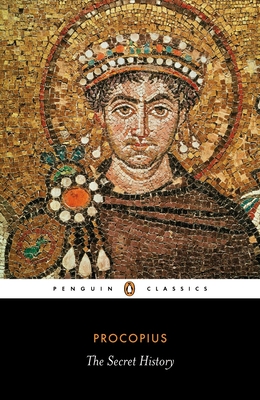 Description
---
A trusted member of the Byzantine establishment, Procopius was the Empire's official chronicler, and his History of the Wars of Justinian proclaimed the strength and wisdom of the Emperor's reign. Yet all the while the dutiful scribe was working on a very different—and dangerous—history to be published only once its author was safely in his grave. The Secret History portrays the 'great lawgiver' Justinian as a rampant king of corruption and tyranny, the Empress Theodora as a sorceress and whore, and the brilliant general Belisarius as the pliable dupe of his scheming wife Antonina. Magnificently hyperbolic and highly opinionated, The Secret History is a work of explosive energy, depicting holy Byzantium as a hell of murder and misrule.

For more than seventy years, Penguin has been the leading publisher of classic literature in the English-speaking world. With more than 1,700 titles, Penguin Classics represents a global bookshelf of the best works throughout history and across genres and disciplines. Readers trust the series to provide authoritative texts enhanced by introductions and notes by distinguished scholars and contemporary authors, as well as up-to-date translations by award-winning translators.
About the Author
---
Procopius was born in Palestine around AD 500 and fought for the Byzantine Empire in Persia, Africa and Italy. Very little is known about him.

G.A. Williamson (1895-1982) was a Classical Exhibitioner at Worcester College, Oxford, graduating with a First Class Honours degree. He was Senior Classics Master at Norwich School from 1922 to 1960. He translated Josephus: The Jewish War (1959) and Procopius: The Secret History (1966) for the Penguin Classics. He died in 1982.