As Ever: Selected Poems (Penguin Poets) (Paperback)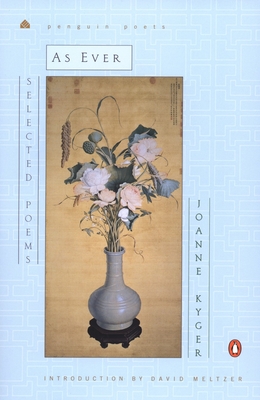 Description
---
This collection of Joanne Kyger's work reveals her as one of the major experimenters, hybridizers, and visionaries of poetry. Kyger is a poet of place, with a strong voice-delicate, graceful, and never wasteful; her poems explore themes of friendship, love, community, and morality and draw on Native American myth as well as Asian religion and philosophy. Kyger's love for poetry manifests itself in a grander scheme of consciousness-expansion and lesson, but always in the realm of the everyday. Edited with a foreword by Michael Rothenberg, and with an introduction by poet David Meltzer, this book is a marvelous overview of a wonderfully challenging and important poet.
About the Author
---
Joanne Kyger comes out of a West Coast School of writers that included Gary Snyder, Philip Whalen, Jack Spicer, and Richard Brautigan. She has traveled extensively in Japan and India and has maintained a lifelong interest in Buddhism. She is the author of more than twenty-five books and broadsides.
David Meltzer has published numerous works of poetry, fiction, and collections of essays. He has also released four albums of recordings on the Vanguard and Capitol labels.