Love Poems from God: Twelve Sacred Voices from the East and West (Compass) (Paperback)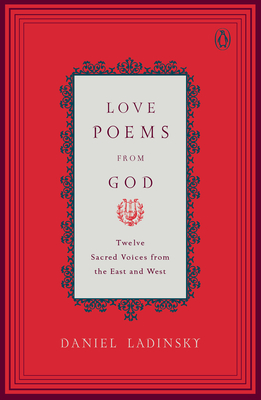 $22.00

Usually arrives at our store within 4-7 days
Description
---
Sacred poetry from twelve mystics and saints, rendered brilliantly by Daniel Ladinsky, beloved interpreter of verses by the fourteenth-century Persian poet Hafiz

One of 6 Books Oprah Loves to Give as Gifts During the Holidays

"All kinds of beautiful poetry." –Hoda Kotb


In this luminous collection, Daniel Ladinsky—best known for his bestselling interpretations of the great Sufi poet Hafiz—brings together the timeless work of twelve of the world's finest spiritual writers, six from the East and six from the West. Once again, Ladinsky reveals his talent for creating profound and playful renditions of classic poems for a modern audience.

Rumi's joyous, ecstatic love poems; St. Francis's loving observations of nature through the eyes of Catholicism; Kabir's wild, freeing humor that synthesizes Hindu, Muslim, and Christian beliefs; St. Teresa's sensual verse; and the mystical, healing words of Sufi poet Hafiz—these along with inspiring works by Rabia, Meister Eckhart, St. Thomas Aquinas, Mira, St. Catherine of Siena, St. Teresa of Avila, St. John of the Cross, and Tukaram are all "love poems by God" from writers considered "conduits of the divine." Together, they form a spiritual treasure to cherish always.
About the Author
---
Daniel Ladinsky is an acclaimed poet and renderer of mystical poetry. His books include The Gift, The Subject Tonight Is Love, I Heard God Laughing, A Year with Hafiz, Love Poems from God, The Purity of Desire, and Darling, I Love You. For six years, he made his home in a spiritual community in western India, where he worked and lived with the intimate disciples and family of Avatar Meher Baba. He lives in Myrtle Beach, South Carolina.
Praise For…
---
Praise for Daniel Ladinsky's renderings

"Ideal for anyone who could use an emotional boost in the morning, or just likes to incorporate small, joyful moments in their daily routine." —Today.com

"There are universes inside Hafiz, a lineage of masters. Daniel Ladinsky follows the playfulness; the rascal moves well." —Coleman Barks