In Montmartre: Picasso, Matisse and the Birth of Modernist Art (Paperback)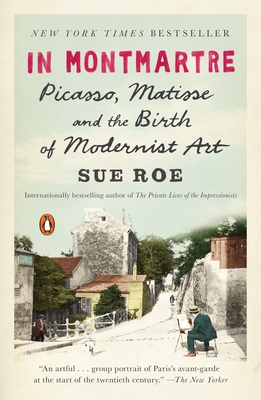 Description
---
A lively and deeply researched group biography of the vibrant figures who invented modernist art in bohemian Paris at the dawn of the twentieth century
 
When the young Pablo Picasso first arrived in Paris in 1900, the most progressive young artists all lived and worked in the seedy hillside quarter of Montmartre, in the shade of the old windmills. Over the next decade, among the studios, salons, cafés, dance halls, and galleries of Montmartre, the young Spaniard joined the likes of Henri Matisse, André Derain, Maurice de Vlaminck, Georges Braque, Amedeo Modigliani, Constantin Brancusi, Gertrude Stein, and many more in revolutionizing artistic expression.
 
Blending exceptional scholarship with graceful prose, Sue Roe paints a remarkable group portrait of the men and women who profoundly changed the arts of painting, sculpture, dance, music, literature, and fashion. She describes the origins of such movements as Fauvism, Cubism, and Futurism, and reconstructs the stories behind immortal paintings by Picasso and Matisse. She shows how daily life in Montmartre—which brought artists together with acrobats and dancers, prostitutes and clowns—provided an essential cauldron for artistic experimentation and for the colorful relationships, friendships, loyalties, and feuds that gave rise to some of the most pathbreaking and lasting works of the twentieth century.
 
In Montmartre is a thrilling account of an extraordinary group of artists on the cusp of fame and immortality that brings vividly to life one of the key moments in the history of modern art.
 
Praise for In Montmartre:
"A lively and concise account . . . [Roe is] very good at synthesizing and distilling complicated art movements and ideas without getting bogged down in technical details or jargon. And she offers up plenty of juicy tidbits about the artists' love affairs, infidelities, opium parties, and eccentric habits. . . . Roe's book is a great introduction to one of the most pivotal periods in 20th century art. Even those familiar with the era will likely find that it broadens their understanding of key players and events." —Associated Press
About the Author
---
Sue Roe is the author of several books, including a New York Times bestselling collective biography of the Impressionists and a widely praised work on the artist Gwen John. She lives in Brighton, England.
Praise For…
---
Associated Press: 
"A lively and concise account...[Roe is] very good at synthesizing and distilling complicated art movements and ideas without getting bogged down in technical details or jargon. And she offers up plenty of juicy tidbits about the artists' love affairs, infidelities, opium parties and eccentric habits…Roe's book is a great introduction to one of the most pivotal periods in 20th century art. Even those familiar with the era will likely find that it broadens their understanding of key players and events."

Minneapolis Star Tribune: 
"Bold, bright and entertaining… Full of life and color…[Roe] is particularly gifted at describing paintings, conjuring them up in bold, strong strokes…Roe brings an equal incisiveness to her discussions of art, explaining the overlap among painting, music, literature, couture and dance and the driving forces behind the explorations that artists in all these fields were engaged in."
 
Christian Science Monitor:    
"Engaging and insightful…Roe assembles the complex, disparate developments of the decade into a compulsively readable, fascinating story."

Dallas Morning News: 
"[IN MONTMARTRE] reads at times like a novel…[and] has scholarly heft…The prose is lively and clear…Anyone who has stood before a work of art and wondered about the artist's inspiration — particularly modernist art, which can be provocative and challenging — will appreciate Sue Roe's ability to draw back the curtain on this critical period."

Sunday Times (London): 
"Lively and engaging….[Readers] will find a fresh sense of how all these people—the geniuses and the hangers-on, the wealthy collectors and the unworldly painters—related to each other…..In [Roe's] entertaining, ingeniously structured account Roe brings Montmatre's hedyday back to life." 
 
Financial Times: 
"With evocative imagery Roe sketches out the intensely visual spectacle on which Montmatre's artistic community was able to draw…. Roe is particularly good at communicating the extraordinary devotion of Matisse and Picasso to their work." 

The Guardian: 
"What an eye for art Roe has ... we're still gripped by the story of the dialogue between Picasso and Matisse ... and by this book's own brilliant dance." 

Daily Telegraph: 
"As an elegant synthesis of complex material, it excels : Roe is a skilled and graceful writer, capable of an accessible, nimble narrative .... In an important sense ... this book is timely ... it is a quintessential biography of the Facebook era, since its real subject is a social network."

The Spectator: 
"Sue Roe has written a portrait in words of an era."