Evolving Ourselves: Redesigning the Future of Humanity--One Gene at a Time (Paperback)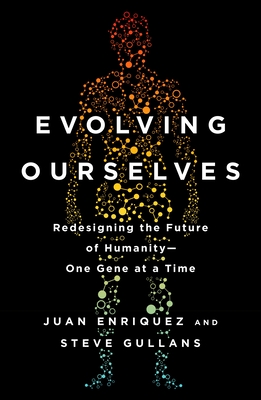 Description
---
An eye-opening, mind-bending exploration of how mankind is reshaping its genetic future, based on the viral TED Talk series "Will Our Kids Be a Different Species?" and "The Next Species of Human."

Are you willing to engineer the DNA of your unborn children and grand-children to be healthier? Better looking? More intelligent? Why are rates of autism, asthma, and allergies exploding at an unprecedented pace? Why are humans living longer and having far fewer kids?

Futurist Juan Enriquez and scientist Steve Gullans conduct a sweeping tour of how humans are changing the course of evolution for all species—sometimes intentionally, sometimes not. For example:

• What if life forms are limited only by the bounds of our imagination? Are designer babies and pets, de-extinction, even entirely newspecies fair game?

• As humans, animals, and plants become ever more resistant to disease and aging, what will become the leading causes of death?

• Man-machine interfaces may allow humans to live much longer. What will happen when we transfer parts of our "selves" into clones, into stored cells and machines?

Though these harbingers of change are deeply unsettling, the authors argue we are also in an epoch of tremendous opportunity. Future humans, perhaps a more diverse, resilient, gentler, and intelligent species, may become better caretakers of the planet—but only if we make the right choices now. Intelligent, provocative, and optimistic, Evolving Ourselves is the ultimate guide to the next phase of life on Earth.

Chosen by Nature magazine as a Fall 2016 season highlight.
About the Author
---
JUAN ENRIQUEZ and STEVE GULLANS, PH.D., are cofounders of Excel Venture Management, which builds start-ups in synthetic biology, big data, and new genetic technologies. Enriquez is a bestselling author and a global authority on the economic and political impacts of the life sciences. He is a TED "all-star," lectures around the world, chairs the Genetics Advisory Council at Harvard Medical School, and was the founding director of Harvard Business School's Life Science Project. Gullans was a professor at Harvard Medical School for eighteen years, applying breakthrough technologies to diseases such as cancer, ALS, Parkinson's, and Alzheimer's. He has published more than 130 scientific papers in leading journals. He was elected a Fellow of the American Association for the Advancement of Science (AAAS) in 1998. The authors live in Boston.
Praise For…
---
"An engagin whirlwind tour of all the possibilities, foreboding and inspiring.
Evolving Ourselves
is well worth reading—and rereading."
—
FORBES
"If you think that human evolution occurred only in the past, think again! Evolving Ourselves is a scintillating, witty, and sometimes scary account of how rapidly changing technologies are altering human evolution in consequential ways. The book boldly predicts our species' evolutionary future."
—DANIEL E. LIEBERMAN, Edwin M. Lerner II Professor of Biological Sciences, Harvard University; author of The Story of the Human Body

"A refreshingly human-centered take on the future of nature, Evolving Ourselves shows how natural selection has become a participatory team sport. That's right: Evolution itself is evolving, human beings are the cause, and we all better wake up and do this more consciously before we domesticate ourselves into extinction."
—DOUGLAS RUSHKOFF, author of Present Shock

"For anyone with an interest in understanding the complexity that defines us as human beings, there is plenty to absorb in the cleverly woven pages of Evolving Ourselves. Written in an engaging and often entertaining style, the book pinpoints the unique situation in which Homo sapiens find themselves: deciding what we become next."
—DR. LOUISE LEAKEY, Turkana Basin Institute

"How far should we go in our ability to control every aspect of the world we live in, including our own bodies? Evolving Ourselves is a fascinating investigation of the global questions and microscopic details that will decide the fate of the human race."
—GARRY KASPAROV, former world chess champion

"How big dare we dream? This intriguing, optimistic, and exhilarating book takes us into the laboratories of today's highly innovative molecular biology to explore the possible futures of humankind. If he were alive today, Darwin would be delighted and astonished by the way his ideas have inspired such creative modern research."
—JANET BROWNE, author of Charles Darwin: A Biography; Aramont Professor of the History of Science, Harvard University

"We are going from evolution by natural selection to evolution by human design. The game has changed, and this book provides the new rules of engagement."
—PETER H. DIAMANDIS, chairman/CEO, XPRIZE; author of Abundance

"This book will be a long-lived classic; it is what Darwin would write if he were alive today. Few yet comprehend the awe-inspiring nature of synthetic biology and its implications for life on the planet going forward; by providing a simple, no-nonsense, humorous, and somewhat scary framework, Enriquez and Gullans allow all of us to understand the changes we live with every day as we guide, and decide, our own evolution."
—JAY WALKER, curator of TEDMED

"This book provokes terror and inspiration in equal measure. Terror because humankind has become a potent evolutionary force affecting all life on the planet, including itself.  Inspiration because with awareness comes the capacity to direct humanity's — and the planet's— evolutionary trajectory. Read this book and you will never think the same way about evolution ever again."
—PAUL SAFFO, technology forecaster

"Juan Enriquez and Steve Gullans convincingly argue that Darwin's driving force of natural selection no longer holds true in a world where little remains natural and free of the hand of man. Their book raises important questions that we all should consider deeply as individuals, as nations, and as a global community as we venture forth into this next phase of evolution."
—DONALD INGBER, M.D.,Ph.D., Founding Director, Wyss Institute for Biologically Inspired Engineering at Harvard University

"Thoughtful and thought-provoking, Evolving Ourselves is rich in the fascinating details of how we work, how we got there, and how we are changing.  Enriquez and Gullans take us down a path of observations and logic that leads to either your grandest hopes or darkest nightmares. Fasten your seat-belts, this rocket is about to take off."
—MARTIN BLASER, author of Missing Microbes

"Enriquez and Gullans take off all the blinders and explore the myriad, astounding ways we humans are rapidly influencing and shaping, both intentionally and not, our future selves. With mounting knowledge around what makes our species tick, they describe how we'll have the power to direct our evolutionary path."
—LINDA AVEY, co-founder 23andMe

"A provocative and sobering vision of the evolutionary forces at work in our modern, post-Darwin world, and the control that humans exert over our genetic destinies. Essential reading for anyone who retains hope that humanity, through shear application of ingenuity, will persevere, survive, and surmount the inestimable challenges that lie ahead."
—GEORGE DALEY, MD, PhD, Professor, Harvard Medical School
 
"Timely and exceptionally rich, this book  is guaranteed to stimulate reflection on what the new biology means for our species."
—DR. ERLING NORRBY, Former Permanent Secretary of the Royal Swedish Academy of Sciences

"Juan Enriquez and Steve Gullans brilliantly describe a future of extreme possibility and extreme responsibility. Thinking deeply about the implications of their work improves our chances of creating a desirable version of that future."
—TIM BROWN, CEO of IDEO, and author of Change by Design

"In a rapidly changing world, considerations of human evolution are rarely taken into account as a critical factor that shapes the immediate future. but Enriquez and Gullans will convince you otherwise. They will make you rethink what constitutes a victory (antibiotics! air travel!) over our natural biological constraints and its unintended consequences."
—HIDDE PLOEGH, Professor of Biology, MIT and member of the Whitehead Institute for Biomedical Research

"In this study of the evolution of evolution, Juan Enriquez and Steve Gullans ponder the potential of genome editing and synthetic life."
—NATURE MAGAZINE