Coffeeland: One Man's Dark Empire and the Making of Our Favorite Drug (Paperback)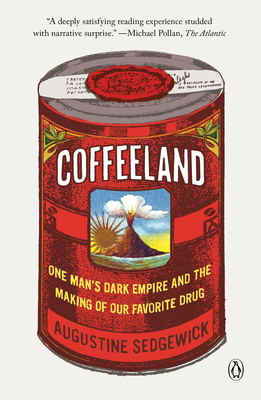 Description
---
A New York Times Book Review Editors' Choice

"Extremely wide-ranging and well researched . . . In a tradition of protest literature rooted more in William Blake than in Marx." —Adam Gopnik, The New Yorker
 
The epic story of how coffee connected and divided the modern world
 
Coffee is an indispensable part of daily life for billions of people around the world. But few coffee drinkers know this story. It centers on the volcanic highlands of El Salvador, where James Hill, born in the slums of Manchester, England, founded one of the world's great coffee dynasties at the turn of the twentieth century. Adapting the innovations of the Industrial Revolution to plantation agriculture, Hill helped turn El Salvador into perhaps the most intensive monoculture in modern history—a place of extraordinary productivity, inequality, and violence. In the process, both El Salvador and the United States earned the nickname "Coffeeland," but for starkly different reasons, and with consequences that reach into the present.

Provoking a reconsideration of what it means to be connected to faraway people and places, Coffeeland tells the hidden and surprising story of one of the most valuable commodities in the history of global capitalism.
About the Author
---
Augustine Sedgewick earned his doctorate at Harvard University and teaches at the City University of New York. His research on the global history of food, work, and capitalism has received fellowships from the American Council of Learned Societies, the Andrew W. Mellon Foundation, and the Project on Justice, Welfare, and Economics at Harvard, and has been published in History of the Present, International Labor and Working-Class History, and Labor. Originally from Maine, Sedgewick lives in New York City.
Praise For…
---
A New York Times Book Review Editors' Choice

"[A] beautifully written, engaging and sprawling portrait of how coffee made modern El Salvador, while it also helped to remake consumer habits worldwide." —Lizabeth Cohen, New York Times Book Review
 
"Throughly engrossing . . . [Sedgewick's] literary gifts and prodigious research make for a deeply satisfying reading experience studded with narrative surprise." —Michael Pollan, bestselling author of This is Your Mind on Plants

"Extremely wide-ranging and well researched, Sedgewick's story reaches out into American political history, not to mention the history of American breakfast, but it is mostly set in El Salvador, where a large-scale monoculture of coffee began, at the turn of the twentieth century, under the fiendishly brilliant direction of a British expat named James Hill [. . .] The originality and ambition of Sedgewick's work is that he insistently sees the dynamic between producer and consumer—Central American peasant and North American proletarian—not merely as one of exploited and exploiter but as a manufactured co-dependence between two groups both exploited by capitalism." —Adam Gopnik, The New Yorker

"Sedgewick's gripping book exposes the dark heart of what goes into making a ubiquitous commodity, cherished every morning, enshrined in the workplace and appreciated after a meal. It provides a devastating answer to the question: 'What does it mean to be connected to faraway people and places through everyday things?'" —Colin Greenwood, The Spectator (UK)

"Wonderful, energizing . . . Coffeeland is a data-rich piece of original research that shows in compelling detail how coffee capitalism has delivered both profit and pain, comfort and terror to different people at different times over the past 200 years . . . Sedgwick's great achievement is to clothe macroeconomics in warm, breathing flesh." —Kathryn Hughes, The Guardian

"Meticulously researched, vivid in its scene-setting, fine-toothed in its sociopolitical analysis . . . Coffeeland lays bare the history and reality behind that cup of joe you're drinking." —Boston Globe

"Epic, illuminating." —Daily Telegraph (UK)

"Impressive . . . A powerful indictment of labour relations in El Salvador and capitalism in general." —Times Literary Supplement (UK)

"There is much here to entertain, educate and—dare one say it of a book about coffee—stimulate." —Financial Times
  
"Artfully blending together all these strands, and juggling a wide cast of characters, Mr. Sedgewick's book is a parable of how a commodity can link producers, consumers, markets and politics in unexpected ways. Like the drink it describes, it is an eye-opening, stimulating brew." —The Economist

"With a forensic grasp of detail, Sedgewick charts the rise of mass-marketing and modern retail strategies through the story of the humble coffee bean . . . Coffeeland's poignant message runs wider still . . . the story of coffee, today's ' 'unrivaled work drug', is also the story of globalisation." —Oliver Balch, Literary Review

"Equal parts historical overview of coffee, of our dependence on it and a look at global economics, Coffeeland is a massively ambitious work [. . .] Sedgewick looks not only at the drink and its sources, but through a multi-disciplinary approach examines its global impact on modern society: how the world has become fueled by coffee and wholly reliant on its economic stability across the world." —Spectrum Culture

"Coffeeland will set a new standard for both the study of commodities and of hemispheric relations. Augustine Sedgewick's book is an innovative study of work, of the work involved to produce a drink needed by workers to keep working. Sedgewick treats coffee not so much as a material commodity but rather more like intangible energy, and relates it, in provocative and convincing ways, to other combustible liquids that created the North American economy, from the fields of Central America to the factories of the northern United States." —Greg Grandin, author of The End of the Myth

"Capitalism has remade the global countryside in radical ways. With the end of plantation slavery, new forms of that transformation emerged: Hunger supplanted shackles; the law replaced the master. Coffeeland brilliantly chronicles this most consequential revolution by telling the global history of one family. After reading Augustine Sedgewick's fast-paced book you will never be able to think about your morning coffee in quite the same way." —Sven Beckert, author of Empire of Cotton

"Fascinating . . . Impeccably researched . . . Coffeeland is a rich and immensely readable journey into an aspect of 21st-century life worth learning more about." —Bookpage

"In fascinating detail, historian Sedgewick explores coffee as a plant, a crop, a commodity, and a potent chemical substance." —Booklist

"Coffeeland is a bittersweet triumph." —The Irish Times

"Thought-provoking and gracefully written . . . The breadth of Sedgewick's analysis of coffee's place in the world economy astonishes, as does his ability to bring historical figures to life . . . [an] eye-opening history." —Publishers Weekly (starred review)

"An intriguing account that darkens the depths of that daily cup of joe." —Kirkus

"How did a cup of coffee become the everday addiction of millions? In this impressively wide-ranging, personality-filled history, Augustine Sedgewick untangles the routes that carried coffee from the slopes of El Salvador's volcanoes to the shelves of US supermarkets. To enter Coffeeland is to visit a realm of ruthless entrepreneurs, hard-working laborers, laboratory chemists, and guerrilla fighters. You'll leave with your appreciation for your morning brew forever enriched." —Maya Jasanoff, author of The Dawn Watch