Kicked, Bitten, and Scratched: Life and Lessons at the World's Premier School for Exotic Animal Trainers (Paperback)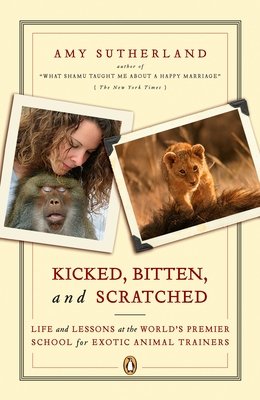 Description
---
A rare and absolutely enchanting look inside the Harvard of wild animal wranglers

As is obvious to anyone who has read her most e-mailed New York Times article of 2006, "What Shamu Taught Me About a Happy Marriage," Amy Sutherland knows a thing or two about animals. In Kicked, Bitten, and Scratched, she takes readers behind the gates of Moorpark Community College, where students are taught such skills as how to train a hyena to pirouette and coax a tiger to open wide for a vet exam. As she follows the faculty, student body, and four- footed teaching aides at Moorpark's Exotic Animal Training and Management program, Sutherland produces a true walk on the wild side, filled with wonder, comedy, occasional heartache, and transcendent beauty.
About the Author
---
Amy Sutherland is the author of Cookoff and was a features reporter at the Portland Press Herald in Portland, Maine, for seven years. Her articles have also appeared in the Los Angeles Times, The Boston Globe, The Christian Science Monitor, and Disney Magazine. She has a master's degree in journalism from Northwestern University.
Praise For…
---
Anyone who reads [this book] will never view animals in quite the same way again. (Los Angeles Times)