The Bin Ladens: An Arabian Family in the American Century (Paperback)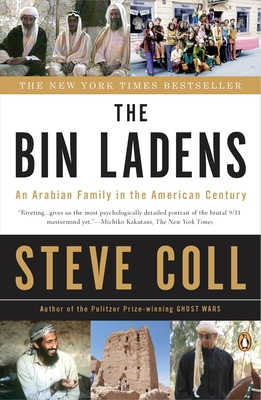 Description
---
From the award-winning and bestselling author of Ghost Wars and Directorate S

In The Bin Ladens, two-time Pulitzer Prize-winner Steve Coll continues where Ghost Wars left off, shedding new light on one of the most elusive families of the twenty-first century. Rising from a famine-stricken desert into luxury, private compounds, and even business deals with Hollywood celebrities, the Bin Ladens have benefited from the tensions and contradictions in a country founded on extreme religious purity, suddenly thrust into a world awash in oil, money, and the temptations of the West. But what do these incongruities mean for globalization, the War on Terror, and America's place in the Middle East? Meticulously researched, The Bin Ladens is the story of a remarkably varied and often dangerous family that has used money, mobility, and technology to dramatically different ends.
About the Author
---
Steve Coll is the author of the Pulitzer Prize-winning Ghost Wars and the dean of the Graduate School of Journalism at Columbia University, and from 2007 to 2013 was president of the New America Foundation, a public policy institute in Washington, D.C. He is a staff writer for The New Yorker, and previously worked for twenty years at The Washington Post, where he received a Pulitzer Prize for explanatory journalism in 1990. He is the author of seven other books, including On the Grand Trunk Road, The Bin Ladens, Private Empire, and Directorate S.
Praise For…
---
"A fascinating panorama . . . about a man and his family [and] the powerful impact they have made on our times."
-The Washington Post

"Riveting . . . the most psychologically detailed portrait of the brutal 9/11 mastermind yet."
-Michiko Kakutani, The New York Times

"Stunningly researched and grippingly told . . . [The Bin Ladens] ought to be read by anyone who really wants to understand the origins of the current crisis."
-Tim Rutten, Los Angeles Times