Nudge: Improving Decisions About Health, Wealth, and Happiness (Paperback)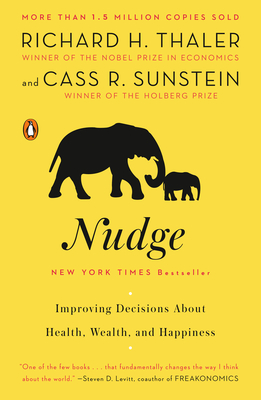 Description
---
Now available: Nudge: The Final Edition

The original edition of the multimillion-copy New York Times bestseller by the winner of the Nobel Prize in Economics, Richard H. Thaler, and Cass R. Sunstein: a revelatory look at how we make decisions—for fans of Malcolm Gladwell's Blink, Charles Duhigg's The Power of Habit, James Clear's Atomic Habits, and Daniel Kahneman's Thinking, Fast and Slow

Named a Best Book of the Year by The Economist and the Financial Times

Every day we make choices—about what to buy or eat, about financial investments or our children's health and education, even about the causes we champion or the planet itself. Unfortunately, we often choose poorly. Nudge is about how we make these choices and how we can make better ones. Using dozens of eye-opening examples and drawing on decades of behavioral science research, Nobel Prize winner Richard H. Thaler and Harvard Law School professor Cass R. Sunstein show that no choice is ever presented to us in a neutral way, and that we are all susceptible to biases that can lead us to make bad decisions. But by knowing how people think, we can use sensible "choice architecture" to nudge people toward the best decisions for ourselves, our families, and our society, without restricting our freedom of choice.
About the Author
---
Richard H. Thaler was awarded the 2017 Nobel Prize in Economics. He is the Charles R. Walgreen Distinguished Service Professor of Behavioral Science and Economics at the University of Chicago's Booth School of Business, where he is the director of the Center for Decision Research. He is also the co-director (with Robert Shiller) of the Behavioral Economics Project at the National Bureau of Economic Research and in 2015 was the president of the American Economic Association. He has been published in several prominent journals and is the author of a number of books, including Misbehaving: The Making of Behavioral Economics.
 
Cass R. Sunstein is the Robert Walmsley University Professor at Harvard Law School, where he is the founder and director of the Program on Behavioral Economics and Public Policy. He is by far the most cited law professor in the United States. From 2009 to 2012 he served in the Obama administration as Administrator of the White House Office of Information and Regulatory Affairs. He has testified before congressional committees, appeared on national television and radio shows, been involved in constitution-making and law reform activities in a number of nations, and written many articles and books, including Simpler: The Future of Government, Wiser: Getting Beyond Groupthink to Make Groups Smarter, The World According to Star Wars, and Impeachment: A Citizen's Guide. He is the recipient of the 2018 Holberg Prize, awarded annually to a scholar who has made outstanding contributions to research in the arts, humanities, the social sciences, law, or theology.
Praise For…
---
One of The Strategist' s "13 Best Personal Finance Books, According to Money Experts"

"One of the few books . . . that fundamentally changed the way I think about the world." —Steven D. Levitt, coauthor of Freakonomics

"Engaging and insightful . . . The conceptual argument is powerful, and most of the authors' suggestions are common sense at its best. . . . For that we should all applaud loudly." —The New York Times Book Review

"An essential read . . . The book isn't only humorous, it's loaded with good ideas that financial-service executives, policy makers, Wall Street mavens, and all savers can use." —The Boston Globe
 
"This book is terrific. It will change the way you think, not only about the world around you and some of its bigger problems, but also about yourself." —Michael Lewis, author of Moneyball and Liar's Poker

"This gem of a book . . . is a must-read for anyone who wants to see both our minds and our society working better. It will improve your decisions and it will make the world a better place." —Daniel Kahneman, Nobel Prize–winning author of Thinking, Fast and Slow
 
"Utterly brilliant . . . Nudge won't nudge you—it will knock you off your feet." —Daniel Gilbert, author of Stumbling on Happiness

"Nudge is as important a book as any I've read in perhaps twenty years. It is a book that people interested in any aspect of public policy should read. It is a book that people interested in politics should read. It is a book that people interested in ideas about human freedom should read. It is a book that people interested in promoting human welfare should read. If you're not interested in any of these topics, you can read something else." —Barry Schwartz, The American Prospect
 
"Engaging, informative, and thoroughly delightful." —Don Norman, author of The Design of Everyday Things and The Design of Future Things

"A wonderful book: more fun than any important book has a right to be—and yet it is truly both." —Roger Lowenstein, author of When Genius Failed
 
"Save the planet, save yourself. Do-gooders, policymakers, this one's for you." —Newsweek
 
"Great fun to read . . . Sunstein and Thaler are very persuasive." —Slate
 
"Nudge helps us understand our weaknesses, and suggests savvy ways to counter them." —The New York Observer
 
"Always stimulating . . . An entertaining book that also deeply informs." —Barron's
 
"Entertaining, engaging, and well written . . . Highly recommended." —Choice
 
"This Poor Richard's Almanack for the 21st century . . . shares both the sagacity and the witty and accessible style of its 18th-century predecessor." —Law and Politics Book Review
 
"There are superb insights in Nudge." —Financial Times