Sea of Cortez: A Leisurely Journal of Travel and Research (Paperback)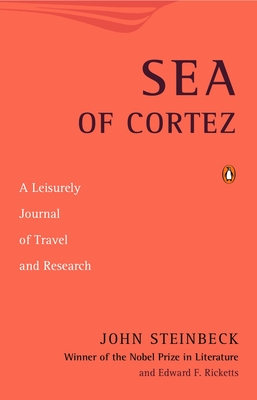 Description
---
The collaboration of two friends—one a novelist, one a marine biologist—produced a volume in which fascinating popular science is woven into a narrative of man's dreams, his ideals, and his accomplishments through the centuries. Sea of Cortez is one of those rare books that are all things to all readers. Actually the record of a brief collecting expedition in the lonely Gulf of California, it will be science to the scientist, philosophy to the philosopher, and to the average man an adventure in living and thinking.

The teeming and wildly competitive world of the sand flats is seen in terms of history, politics, ethics, and sociology; a starfish is important, not only because it is a new variety, but because it is essential to the delicate balance of the whole region in which it is found. Steinbeck and Ricketts are the opposite of "pure" scientists: it is not only their work that fascinates them, but the complicated and enormously exciting implications of that work.

Sea of Cortez is a book to be read and remembered on two levels. It is a journey through a remote and beautiful corner of the world, a diary filled with the daily excitements and triumphs of skillful and energetic men. It is also an invitation to see the world anew from a fresh vantage point and perhaps with a broader and more understanding spirit.
About the Author
---
John Steinbeck, born in Salinas, California, in 1902, grew up in a fertile agricultural valley, about 25 miles from the Pacific Coast. Both the valley and the coast would serve as settings for some of his best fiction. In 1919 he went to Stanford University, where he intermittently enrolled in literature and writing courses until he left in 1925 without taking a degree. During the next five years he supported himself as a laborer and journalist in New York City, all the time working on his first novel, Cup of Gold (1929). After marriage and a move to Pacific Grove, he published two California books, The Pastures of Heaven (1932) and To a God Unknown (1933), and worked on short stories later collected in The Long Valley (1938). Popular success and financial security came only with Tortilla Flat (1935), stories about Monterey's paisanos. A ceaseless experimenter throughout his career, Steinbeck changed courses regularly. Three powerful novels of the late 1930s focused on the California laboring class: In Dubious Battle (1936), Of Mice and Men (1937), and the book considered by many his finest, The Grapes of Wrath (1939). The Grapes of Wrath won both the National Book Award and the Pulitzer Prize in 1939.Steinbeck received the Nobel Prize in Literature in 1962, and, in 1964, he was presented with the United States Medal of Freedom by President Lyndon B. Johnson. Steinbeck died in New York in 1968. Today, more than 30 years after his death, he remains one of America's greatest writers and cultural figures.

Edward F. Ricketts was a marine biologist, ecologist, and philosopher. His most well-known work is Between Pacific Tides, which is a study of intertidal ecology. He was a major influence on the beloved American writer John Steinbeck, which led to their productive collaboration on the non-fiction work Sea of Cortez. Ricketts died in 1948.