Consciousness and the Brain: Deciphering How the Brain Codes Our Thoughts (Paperback)
×
Warning message
Mean Menu style requires
jQuery
library version 1.7 or higher, but you have opted to provide your own library. Please ensure you have the proper version of jQuery included. (note: this is not an error)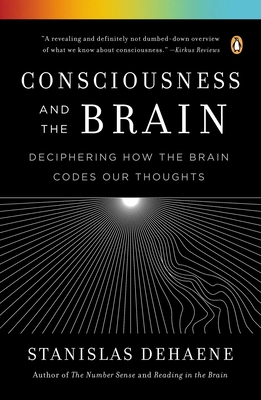 Description
---
WINNER OF THE 2014 BRAIN PRIZE 

From the acclaimed author of Reading in the Brain and How We Learn, a breathtaking look at the new science that can track consciousness deep in the brain

How does our brain generate a conscious thought? And why does so much of our knowledge remain unconscious? Thanks to clever psychological and brain-imaging experiments, scientists are closer to cracking this mystery than ever before.

In this lively book, Stanislas Dehaene describes the pioneering work his lab and the labs of other cognitive neuroscientists worldwide have accomplished in defining, testing, and explaining the brain events behind a conscious state. We can now pin down the neurons that fire when a person reports becoming aware of a piece of information and understand the crucial role unconscious computations play in how we make decisions. The emerging theory enables a test of consciousness in animals, babies, and those with severe brain injuries.

A joyous exploration of the mind and its thrilling complexities, Consciousness and the Brain will excite anyone interested in cutting-edge science and technology and the vast philosophical, personal, and ethical implications of finally quantifying consciousness.
About the Author
---
Stanislas Dehaene was trained as a mathematician and psychologist before becoming one of the world's most active researchers on the cognitive neuroscience of language and number processing in the human brain. He is the director of the Cognitive Neuroimaging Unit in Saclay, France, the professor of experimental cognitive psychology at the Collège de France, a member of the French Academy of Sciences and of the Pontifical Academy of Sciences. He has published extensively in peer-reviewed scientific journals and is the author of The Number Sense and Reading in the Brain. He lives in France.
Praise For…
---
"Ambitious . . . Dehaene offers nothing less than a blueprint for brainsplaining one of the world's deepest mysteries. . . . [A] fantastic book."
—The Washington Post

"Dehaene is a maestro of the unconscious."
—Scientific American Mind

"Brilliant… Dehaene's special contribution is his global-workspace theory, the first step in a complete account of why some neural processes lead to conscious experience…. Dehaene's account is the most sophisticated story about the neural basis of consciousness so far. It is essential reading for those who want to experience the excitement of the search for the mind in the brain."
--Chris Frith, Nature
 
"In Consciousness and the Brain, [Dehaene] summaries the fruits of two decades of vigorous experimentation and modeling…. The book introduces the methods that acted as midwife at the birth of a science of consciousness…. Postulating that global availability of information is what we subjectively experience as a conscious state begets the question of why…. Answering such questions requires an information-theoretical account of what type of data, communicated within what system, gives rise to conscious experience in biological or artificial organisms. Dehaene's well-written and well-sourced book avoids this, as this, as he opts to restrict it to behavioral and neuronal observables."
—Christof Koch, Science
 
"Consciousness tomes have become a dime a dozen over the past decade or so, with every last researcher feeling the need to join the fray. But Stanislas Dehaene is one of the few at the top of the disciplines involved – philosophy, history, cognitive psychology, brain imaging, computer modelling – to add something new."
—New Scientist
 
"An excellent teacher with a gift for vivid analogies, Dehaene writes that 'consciousness is like the spokesperson in a large institution . . . with a staff of a hundred billion neurons' issuing briefs that tell us what we need to know moment by moment. He then explains his and his colleagues' groundbreaking theory about the "global neuronal workspace," where information is made 'available to the rest of the brain,' wowing us with descriptions of our pyramidal neurons and their spiny dendrites and the discovery that each neuron 'cares' about such specific stimuli as 'faces, hands, objects.' A stunning delineation of the "exquisite biological machinery" that has made us an animal unlike any other."
—Booklist, starred review

"A revealing and definitely not dumbed-down overview of what we know about consciousness."
—Kirkus Reviews

"Stanislas Dehaene's remarkable book is the best modern treatment of consciousness I have read to date. Dehaene, a world-class scientist, has pioneered the development of a set of experiments for studying consciousness that have revolutionized the field and given us the first direct approach to its biology. Simply stated this book is a tour de force. It opens up a whole new world of intellectual exploration for the general reader."
—Eric Kandel, author of In Search of Memory and The Age of Insight, and winner of the Nobel Prize in Physiology or Medicine