The Best of Richard Matheson (Paperback)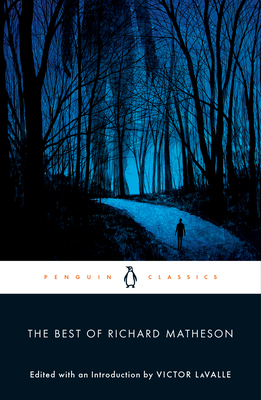 Description
---
The definitive collection of terrifying stories by "one of the greatest writers of the 20th century" (Ray Bradbury), edited by award-winning author Victor LaValle

Among the greats of 20th-century horror and fantasy, few names stand above Richard Matheson. Though known by many for novels like I Am Legend and his sixteen Twilight Zone episodes, Matheson truly shines in his chilling, masterful short stories. Since his first story appeared in 1950, virtually every major writer of science fiction, horror, and fantasy has fallen under his influence, including Stephen King, Neil Gaiman, Peter Straub, and Joe Hill, as well as filmmakers like Stephen Spielberg and J.J. Abrams. Matheson revolutionized horror by taking it out of Gothic castles and strange cosmos and setting it in the darkened streets and suburbs we recognize as our own. He infused tales of the fantastic and supernormal with dark explorations of human nature, delving deep into the universal dread of feeling alone and threatened in a dangerous world. The Best of Richard Matheson brings together his greatest hits as chosen by Victor LaValle, an expert on horror fiction and one of its brightest talents, marking the first major overview of Matheson's legendary career.

"[Matheson is] the author who influenced me most as a writer." -Stephen King

"Richard Matheson's ironic and iconic imagination created seminal science-fiction stories . . . For me, he is in the same category as Bradbury and Asimov." -Steven Spielberg

"He was a giant, and YOU KNOW HIS STORIES, even if you think you don't." -Neil Gaiman

For more than seventy years, Penguin has been the leading publisher of classic literature in the English-speaking world. With more than 1,700 titles, Penguin Classics represents a global bookshelf of the best works throughout history and across genres and disciplines. Readers trust the series to provide authoritative texts enhanced by introductions and notes by distinguished scholars and contemporary authors, as well as up-to-date translations by award-winning translators.


About the Author
---
Richard Matheson (1926-2013)  is the New York Times bestselling author of I Am Legend, Hell House, Somewhere in Time, The Incredible Shrinking Man, A Stir of Echoes, and What Dreams May Come, among others. He was named a Grand Master of Horror by the World Horror Convention, and received the Bram Stoker Award for Lifetime Achievement. He has also won the Edgar, the Spur, and the Writer's Guild awards. In 2010, he was inducted into the Science Fiction Hall of Fame. In addition to his novels, Matheson wrote screenplays, and he wrote for several Twilight Zone episodes, including "Nightmare at 20,000 Feet," based on his short story.

Victor LaValle is the award-winning author of four novels, The Changeling, The Ecstatic, Big Machine, and The Devil in Silver, and a collection of short stories, Slapboxing with Jesus. Big Machine was the winner of an American Book Award and the Shirley Jackson Award in 2010, and was selected as one of the best books of the year by the Los Angeles Times, The Washington Post, Chicago Tribune, The Nation, and Publishers Weekly. He teaches writing at Columbia University.
Praise For…
---
"[Matheson is] the author who influenced me most as a writer." -Stephen King

"He was a giant, and YOU KNOW HIS STORIES, even if you think you don't."-Neil Gaiman

"Richard Matheson's ironic and iconic imagination created seminal science-fiction stories . . . For me, he is in the same category as Bradbury and Asimov." -Steven Spielberg

"[I] never met Richard Matheson, but his stories have been life companions. Books are human souls, in analog form. Go read his." -Joe Hill

"Perhaps no other author living is as responsible for chilling a generation with tantalizing nightmare visions." -The New York Times

"Richard Matheson is one of the great names in American terror fiction." -The Philadelphia Inquirer

"[Matheson has] been an inspiration to me and to so many. He is a legend himself." -Anne Rice

"We're all a lot richer to have Richard Matheson." -Dean Koontz

"[Matheson is] one of the most important writers of the 20th century." -Ray Bradbury 

"Matheson's horror is for grown-ups, those who have lost the easy credulity of the very young . . . He's an ideal writer to read right now, because — as grown-ups know — we live in unbelievable times." -Terrence Rafferty, New York Times Book Review

"Indeed, it's very nearly impossible to overstate the importance of Matheson's contributions to popular culture and our modern perception of horror . . . The Best of Richard Matheson is a fine collection of some of the best short works from one of the great writers of the 20th (or any, really) century." -Pop Matters

"One of my favorite writers of all time . . . If you love short stories, he was a master." -Joe R. Lansdale

"Richard Matheson was quite simply one of the greatest genre writers of all time. Horror, mystery, suspense, western novels...television, film scripts...He was one for the ages." -Christopher Golden

"If all we knew Richard Matheson for was his Twilight Zone episodes, he'd still be a writing legend. But he did so, so much more...It is impossible to overstate how important Richard Matheson is to postwar sci fi, fantasy & horror in prose, TV & film." -Zack Stentz, screenwriter of Thor and X Men: First Class

"140 characters can't begin cover what [Richard Matheson] has given the sci fi & horror genre." -Edgar Wright, writer and director of Baby Driver

"You could make a strong case for Richard Matheson as the most influential American writer of 'fantastika' between Lovecraft and Stephen King . . . I thought I knew most of Matheson's short fiction  . . . and yet editor LaValle has chosen at least a dozen I can't remember ever having read." -Michael Dirda, Washington Post

"Matheson's stories never shock viewers with gruesome effects or CGI wondrousness; instead, they worry them at the human level. And they never let a reader go until they're finished." -Los Angeles Times

"Matheson is a master of horror, but moreso a master of incisive prose and skill." -Tor.com

"Where Matheson shines is in his depictions of ordinary horror, the way strange goings-on affect everyday people, and his ambiguous endings leave plenty of room for further thought. . . . These chilling page-turners still hold up, serving as an excellent starting point for a new generation of readers." -Kirkus Reviews

"[Matheson's] imagination and mastery of the short form cannot be denied, and this collection demonstrates the indelible influence he had on speculative literature" -Publishers Weekly