There are no products in your shopping cart.
Back Talk: Stories (Paperback)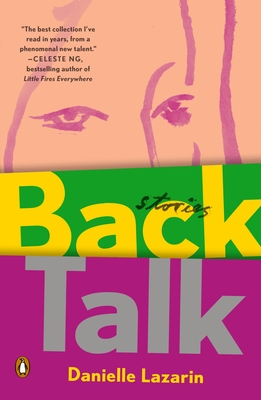 Description
---
"Beautifully crafted . . . the sentences in these stories are living and seamless, as if Lazarin had run her hand over them until they became smooth and gleaming with the evidence of her touch." —Carmen Maria Machado, The New York Times Book Review

From an award-winning writer, a stunning collection of stories about women's unexpressed desires and needs, and the unexpected ways they resurface
 
In "Floor Plans," a woman at the end of her marriage tests her power when she inadvertently befriends the neighbor trying to buy her apartment. In "Appetite," a sixteen-year old grieving her mother's death experiences first love and questions how much more heartbreak she and her family can endure. In "Dinosaurs," a recent widower and a young babysitter help each other navigate how much they have to give—and how much they can take—from the people around them.
 
Through stories that are at once empathetic and unexpected, these women and girls defiantly push the boundaries between selfishness and self-possession. With a fresh voice and bold honesty, Back Talk examines how narrowly our culture allows women to express their desires.
 
"Deceptively quiet but packs a powerful punch . . . The best collection I've read in years, from a phenomenal new talent." —Celeste Ng
About the Author
---
Danielle Lazarin's short stories have won grants from New York Foundation for the Arts and the Northern Manhattan Arts Alliance, the Glimmer Train Family Matters Award, and Hopwood Awards. She is a graduate of the writing programs of Oberlin College and the University of Michigan's Helen Zell Writers' Program. She lives in her native New York City with her husband and daughters.
Praise For…
---
NPR: Best Books of 2018
The Millions: The Great 2018 Book Preview
Esquire: The Best Books of 2018 (So Far)
Harper's Bazaar: 14 New Books You Need to Read This February
BookRiot: 101 Books Coming Out in 2018 That You Should Mark Down Now
Southern Living: Books Coming Out This Winter That We Can't Wait to Read
Vulture: 7 New Books You Need to Read This February
Bustle: The 15 Best Fiction Books Coming Out in February 2018
Refinery29: The Best Books Of February Are All Right Here
Oprah.com: 4 Books for a Holiday Weekend
Nylon: The 10 Best Books To Read This February
PopSugar: The 20 Best New Books to Read in February
Thrillist: Best Books of 2018 (So Far)
Dazed: Five Weird and Wonderful New Short Story Collections You Should Be Reading
Library Journal: New Writers To Watch
MyDomaine: The 20 Best Books of 2018
Vol.1 Brooklyn: February 2018 Book Preview
Jetsetter: 8 Books to Add to Your February Reading List

"Beautifully crafted . . . the sentences in these stories are living and seamless, as if Lazarin had run her hand over them until they became smooth and gleaming with the evidence of her touch. Yet they are not without viscera; sublimated rage fills the crevices between them. . . . These stories hand their warnings to us: Don't be pleasant or easy to touch. Look mean for the camera. Just get up and go."
—Carmen Maria Machado, The New York Times Book Review

"Intimate short stories . . . exploring the mixed blessing of human entanglement."
—New York Magazine

"Danielle Lazarin's first story collection, Back Talk, is a marvel of its kind, and it's marvelous precisely in its Munrovian shiftiness, its ability to bend form and turn the story into something that is temporally and emotionally elastic."
—San Francisco Chronicle

"Terrific."
—Chicago Tribune

"This is the collection to read if you're hungering for the stories of women who subvert, who flick at the misogyny that surrounds them. I found myself shouting in recognition as Danielle Lazarin's expertly crafted characters extricate themselves from hostile relationships or snatch back the power that has been taken from them. Lazarin has a talent for crafting dynamics that are so real; the friendships, the families, the insidious ways women are undermined is all on display. Reading her work, and seeing her characters take up—and sometimes win—the fights I know so well is like taking sips of an antidote for the many things that afflict us women."
—NPR's Best Books of 2018, Kat Chow, reporter, Code Switch

"Long live the short story, as long as writers like Lazarin are here to keep the form fresh. . . . Short stories are like sideways glances or overheard whispers that become more, and Lazarin makes us believe there's worth in stories that we can steal moments to experience."
—The Millions

"[Danielle Lazarin] has the rare ability to evoke an entire ecosystem of human behavior—replete with decades of slights and longings—in just a few pages. The word 'haunting' is so often overused, but in this case, it is an accurate description of how these stories, set between New York and Paris, maneuver their way into your thoughts long after reading."
—Esquire

"This fantastic debut short story collection is filled with excellent stories of women and girls, centering on their lives in a way that feels refreshingly real. If you couldn't get enough of 'Cat Person,' this collection should be next on your list. . . . [Back Talk] examines how narrowly our culture allows women to express their desires through stories that are all about women's hidden yearnings, and the unexpected ways they surface."
—Bustle

"[An] excellent short story collection . . . Lazarin's trove of protagonists, ranging in age, circumstance, and city, will speak to a different part of you."
—Refinery29

"At a critical moment in feminist history, Lazarin's intimate stories find women of almost all ages exploring the essence of freedom and the mixed blessing of human entanglement."
—Vulture

"[A] confident, powerfully written debut collection . . . Lazarin's themes stand out starkly: women, the ways they define themselves, and the ways they relate to one another."
—Harper's Bazaar

"I'm always up for a story collection that centers fully around women. . . . Lazarin [celebrates] the inherent complications of being a woman, and of being alive."
—Nylon

"In this powerful debut, Lazarin has written her heart out chronicling the lives of recognizable girls and women as they come of age, find their footing and chart their path through life's curves, on their own terms. She takes the reader into the crevices and corners of these women's minds, where you can accompany them on their daydreams as they leave or enter relationships, or just generally try to figure it all out. Their voices stay with you long after the final story."
—The Rumpus

"Through sixteen affecting short stories, Danielle Lazarin delivers a powerful look at the moments that define relationships. It's a phenomenal debut."
—HelloGiggles

"Back Talk is full of stories that make you feel uncomfortable, but that also push you to look at the ways in which the world controls and guards girls."
—Dazed

"Together, [these stories] leave you with a sense of crystalline fragments, sharp-edged shards of stories and experiences that paint a fractured picture of life as a woman and a girl. . . . At the center are always Lazarin's vibrant, peculiar, brilliant girls and women navigating getting what they want in the world. This is a powerful and tender collection."
—Thrillist

"Grief, love, wariness, empathy, the confusions of simply being a woman—these are emotions that most of us feel but sometimes find difficult to express. Lazarin gives us the tools to do just that."
—Oprah.com

"Back Talk is the ultimate collection of stories centered on the experience of women and girls—and we can't recommend it highly enough."
—PopSugar

"I'd say remember the name Danielle Lazarin, but if you read her first collection of short fiction, there's no danger you'll forget it. In Back Talk, her tales of the inner lives of girls and young women are nothing short of revelatory."
—BookPage

"Back Talk by Danielle Lazarin is the gateway book to my full-on 2018 obsession with short stories. Lazarin writes such subtle, quiet tales with remarkable empathy, insight, and integrity. When I read her book, I finally began to ask myself the most important question I encountered in 2018: How do women operate in this world? I think Lazarin has an unparalleled ability to write about tiny, generally unseen occurrences that, in the moment of that particular woman's life, are difficult to identify, but are actually the core relationships/experiences/feelings that end up changing the course of their internal and external life experiences."
—MyDomaine, Payton Turner, Girls at Library
 
"Some of the writing does, rightly, remind one of Alice Munro's work, particularly due to the focus on the lives of girls and women. But mostly, it's strikingly reminiscent of Melissa Bank's The Girl's Guide to Hunting and Fishing. . . . A noteworthy debut collection [that] showcases a writer with much promise; one who is not afraid to give voice to facets of womanhood that our socio-cultural conditioning, for both men and women, teaches us to avoid or ignore. And, by giving us an honest, unabashed language for these facets, it also enables us to reconsider the arcs of our own lives and those of other women around us with a closer scrutiny."
—PopMatters

"In the wake of the widespread #MeToo movement, this powerful short story collection could not be more well-timed. A multitude of characters are introduced throughout Back Talk . . . but their tales, however different, are thematically the same: strong female voices and lives and the way in which they connect with each another."
—Jetsetter

"In this collection of stories, Danielle Lazarin ventures into a host of lives in a variety of settings, and explores questions of grief, the emotional toll we can expect from others, and the unexpected ways that we do (or do not) connect with those around us. It's powerful stuff, handled in unexpected ways."
—Vol.1 Brooklyn

"Lazarin's exceptional debut collection digs deep into the lives of women, telling complex stories of loss, hope, and joy. . . . [Back Talk] is confident and exhilarating; this auspicious collection is uniformly excellent."
—Publishers Weekly (starred review)

"Brilliant and tender . . . With poignant imagery and a fresh voice, Lazarin portrays these women honestly and relatably. Her exceptional craftsmanship speaks to the heart, as she paints these tales with empathy and a compassion that extends to all humankind."
—Booklist (starred review)

"Sensitive, intricate, and quietly powerful, Lazarin's stories give voice to women learning to live on their own terms."
—Kirkus (starred review)

"Danielle Lazarin's Back Talk is deceptively quiet but packs a powerful punch—much like the girls and women in its pages. The stories in this collection batter at the boundaries of female desire—not just for sex, but for intimacy, for visibility, for agency. They talk back to the idea that stories about women are 'domestic,' burrowing deep to find wildness and a smoldering fury beneath. The best collection I've read in years, from a phenomenal new talent."
—Celeste Ng, New York Times bestselling author of Little Fires Everywhere

"The stories in Back Talk are not only fierce and unflinching in their clear-eyed portrayal of women and girls, they are also tender and compassionate, imbued with a deep longing. Lazarin is a sophisticated writer and her remarkable debut offers us subtle but profound truths about growing up, moving forward, and finding ourselves."
—Edan Lepucki, New York Times bestselling author of California

"I fell in love with these elegant, beguiling tales. They're about young women, but they are for everyone, whatever gender, whatever age, so universal is their poignant take on life and loving and loneliness, too. Reading Lazarin's writing is like having a great friend in the room, telling you something that you know you need to hear, and telling it to you brilliantly."
—Robin Black, nationally bestselling author of Life Drawing

"These are wonderful stories—sparkling, witty, and tender, riding that sweet spot between urbane and vulnerable, between hilarity and heartbreak—all those impossible contradictions that remind us of what love is like. Lazarin's astonishing insight and craftsmanship put me in mind of short story masters like Beattie and Baxter. I think she's destined for the big leagues."
—Dan Chaon, New York Times bestselling author of Ill Will

"Back Talk offers a kaleidoscopic portrait of the contemporary family in a state of creative destruction, flying apart and simultaneously reconstituting itself in new forms. Danielle Lazarin guides us through the varied permutations of her extended, blended families with insightful wit, surpassing empathy and wry wisdom."
—Peter Ho Davies, author of The Fortunes

"Misfits and mess-ups, dreamers and delinquents, kids chafing at adolescence and adults failing at parenthood—it's easy to see yourself in Danielle Lazarin's characters. But these stories, like all good stories, aren't a mirror: they're a window that shows us the whole world."
—Rumaan Alam, author of Rich and Pretty

"I absolutely loved this book—from the first page to the last, this collection is stunning for its insight into the lives of young women, revelatory for its finely tuned prose, and unforgettable for its humor and tenderness. I will return to these stories again and again. I envy the reader who gets to discover Danielle Lazarin's work."
—Julie Buntin, author of Marlena

"Smart, sharp, well-paced stories—worlds of their own that circle life and loss with humor, wit, and sparkling intelligence."
—Megan Mayhew Bergman, author of Birds of a Lesser Paradise and Almost Famous Women

"Thank God, a collection of stories about women who don't hate themselves, don't hate other women, don't hate their bodies, don't hate their husbands, or even their ex-husbands, don't hate their sisters, their mothers, their fathers, their children. Women who sometimes choose to have sex and sometimes choose not to. Women who are simply, like me, trying to figure out what it means to be alive, to be in love, to be daughters, parents, siblings, wives, citizens, human beings. I hope Danielle Lazarin writes a million more stories like the ones in Back Talk so I can keep reading her work forever."
—Eileen Pollack, author of A Perfect Life