Letters to You: Words of support and inspiration for difficult times (Hardcover)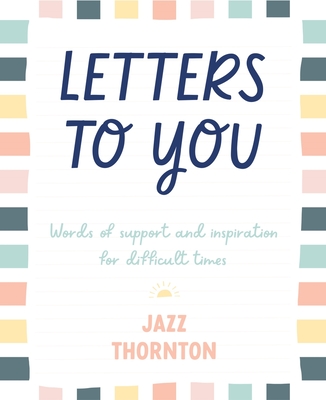 $26.95

Usually arrives at our store within 4-7 days
Description
---
A beautiful gift book of letters to provide support, information, encouragement and tips on practical help for anyone suffering low moments.

This book was designed to be read not just once, or in order, letter by letter, but to be used again and again as a tool when you encounter difficult emotions and experiences, to help you feel less alone.

It is based on something that helped Jazz Thornton on her own journey towards mental health. A good friend wrote her a set of letters each in a separate labeled envelope. Every letter was specifically designed to help fight a particular feeling or situation, and Jazz read them all many times.

So, following this model, in this book each chapter is in the form of a letter, and they cover a range of emotions and situations, including the following, and much more:

To read when you are feeling anxious
To read when you are feeling guilty
To read when you are having suicidal thoughts
To read when you are having trouble with food
To read when you have the urge to self-harm
To read when you are struggling to sleep
Also: To read if you are a parent
To read if you have a friend who is struggling
To read if you are afraid to see your doctor for help

Also includes practical tips from a practicing psychologist, a list of places to get help, and a toolbox of handy skills.
About the Author
---
Jazz Thornton survived a childhood of abuse, depression and chronic suicidal thinking to go on to have international influence in mental health and well-being, using her lived experience to help other young people. She has become a successful author (Stop Surviving Start Fighting), public speaker, award-winning web series director (Jessica's Tree) and international mental-health advocate. A movie about Jazz and the making of Jessica's Tree was released in 2020 - The Girl on the Bridge. Jazz is also the co-founder, along with Genevieve Mora, of the organization Voices of Hope.