Circus Mirandus (Paperback)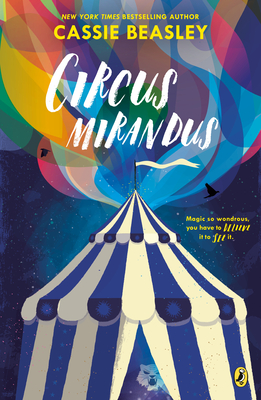 Staff Reviews
---
A beautiful story about family, friendship, magic and miracles. You'll laugh and if you're anything like me you'll cry but this story will stick with you for a lifetime. I just want to give it to everyone I meet!
— From
Ashlee's Staff Picks
Description
---
A New York Times bestseller!

"A beguiling first novel"—Gregory Maguire in the New York Times

"Takes readers to a marvelous place."—The Wall Street Journal

Even though his awful Great-Aunt Gertrudis doesn't approve, Micah believes in the stories his dying Grandpa Ephraim tells him of the magical Circus Mirandus: the invisible tiger guarding the gates, the beautiful flying birdwoman, and the magician more powerful than any other—the Man Who Bends Light. Finally, Grandpa Ephraim offers proof. The Circus is real. And the Lightbender owes Ephraim a miracle. With his friend Jenny Mendoza in tow, Micah sets out to find the Circus and the man he believes will save his grandfather.

The only problem is, the Lightbender doesn't want to keep his promise. And now it's up to Micah to get the miracle he came for.
About the Author
---
Cassie Beasley is from rural Georgia, where, when she's not writing, she helps out on the family pecan farm. She earned her MFA in Writing for Children and Young Adults at the Vermont College of Fine Arts. Circus Mirandus is her first novel.
Praise For…
---
Circus Mirandus is a New York Times Book Review EDITOR'S CHOICE! 

"A beguiling first novel"—Gregory Maguire, author of Egg and Spoon, in the New York Times

"Manifestations of belief and unbelief run through Cassie Beasley's charming debut, which takes readers to a marvelous place."—The Wall Street Journal

"You'll love the chance to believe in magic again."—Redbook

"Totally immersive (and plans for a movie version are in the works!)."—Good Housekeeping

"Cassie Beasley's story will enthrall older kids."—Parents Magazine

* "The book is a fantastical circus romp...a delicious confection and much more: it shows that the human heart is delicate, that it matters, and that it must be handled with care."—Kirkus Reviews, starred review

* "This gripping fantasy tale will have readers hooked from the opening scene to the breathtaking—and unexpected—conclusion."—School Library Journal, starred review

* "Readers will be left with the reminder that "just because a magic is small doesn't mean it is unimportant" and the hope, reminiscent of Peter Pan, that those who still believe will always have magic in their lives."—Publishers Weekly, starred review

"Circus Mirandus is an engag­ing, innovative tale that balances fantastical goings-on with an exploration of love, loss, friendship and the value of being open to the unexplainable."—BookPage

"Some books take readers to different places or let us experience fantastical lands, but Circus Mirandus brings the magic to our world." —Scholastic Instructor, "50 Best Books for Summer"

"Beasley elegantly fits together her story's many pieces, crafting a tale where magic is not an illusion but something we can all find....A+."—Cleveland Plain Dealer

"If you enjoy the magical tales of Roald Dahl, you will love this story about Micah Tuttle's search for a powerful magician named the Lightbender, who owes his dying grandfather a miracle."—Kiki Magazine, Summer Book Club Pick

"The tender relationship between grandfather and grandson is delicately drawn, and the family backstory, with its ties to a dark episode in the millennia-old history of Circus Mirandus, is intriguing...At the core of Beasley's debut novel is the theme of eternal life explored in Babbitt's Tuck Everlasting."—BCCB

"Debut author Beasley has built an imaginative world in evocative, painterly prose, particularly the circus, and she's filled it with compellingly multifaceted characters."—Booklist

"Studded with descriptions that make people and props alike come alive, this story will make readers wish so very badly that a circus, complete with gorilla balloons and mysterious bird ladies, will pop up one day in town and only accept those who truly believe in magic."—VOYA