Storm of the Sea: Indians and Empires in the Atlantic's Age of Sail (Hardcover)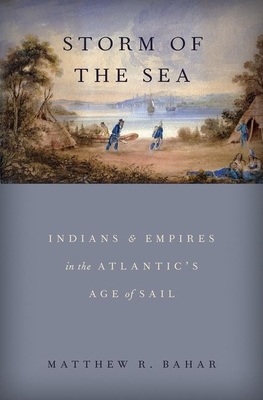 $38.95

Usually arrives at our store within 4-7 days
Description
---
Narratives of cultural encounter in colonial North America often contrast traditional Indian coastal-dwellers and intrepid European seafarers. In Storm of the Sea, Matthew R. Bahar instead tells the forgotten history of Indian pirates hijacking European sailing ships on the rough waters of the
north Atlantic and of an Indian navy pressing British seamen into its ranks. From their earliest encounters with Europeans in the sixteenth century to the end of the Seven Years' War in 1763, the Wabanaki Indians of northern New England and the Canadian Maritimes fought to enhance their relationship with the ocean and the colonists it brought to their shores. This native
maritime world clashed with the relentless efforts of Europeans to supplant it with one more amenable to their imperial designs. The Wabanaki fortified their longstanding dominion over the region's land- and seascape by co-opting European sailing technology and regularly plundering the waves of
European ships, sailors, and cargo. Their campaign of sea and shore brought wealth, honor, and power to their confederacy while alienating colonial neighbors and thwarting English and French imperialism through devastating attacks. Their seaborne raids developed both a punitive and extractive
character; they served at once as violent and honorable retribution for the destructive pressures of colonialism in Indian country and as a strategic enterprise to secure valuable plunder. Ashore, Indian diplomats engaged in shrewd transatlantic negotiations with imperial officials of French Acadia
and New England. Positioning Indians into the Age of Sail, Storm of the Sea offers an original perspective on Native American, imperial, and Atlantic history.

About the Author
---
Matthew R. Bahar is assistant professor of history at Oberlin College.