The Signifying Monkey: A Theory of African American Literary Criticism (Paperback)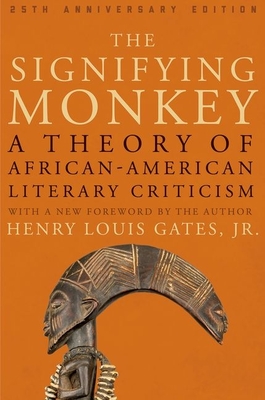 $19.95

Usually arrives at our store within 4-7 days
Description
---
Hailed in The New York Times Book Review as "eclectic, exciting, convincing, provocative" and in The Washington Post Book World as "brilliantly original," Henry Louis Gates, Jr.'s The Signifying Monkey is a groundbreaking work that illuminates the relationship between the African and
African-American vernacular traditions and black literature. It elaborates a new critical approach located within this tradition that allows the black voice to speak for itself. Examining the ancient poetry and myths found in African, Latin American, and Caribbean culture, Gates uncovers a unique system for interpretation and a powerful vernacular tradition that black slaves brought with them to the New World. Exploring the process of signification in black American life
and literature by analyzing the transmission and revision of various signifying figures, Gates provides an extended analysis of what he calls the "Talking Book," a central trope in early slave narratives that virtually defines the tradition of black American letters. Gates uses this critical
framework to examine several major works of African-American literature--including Zora Neale Hurston's Their Eyes Were Watching God, Ralph Ellison's Invisible Man, and Ishmael Reed's Mumbo Jumbo--revealing how these works signify on the black tradition and on each other. This superb 25th-Anniversary Edition features a new preface by Gates that reflects on the impact of the book and its relevance for today's society as well as a new afterword written by noted critic W. T. J. Mitchell.

About the Author
---
Henry Louis Gates, Jr. is the Alphonse Fletcher University Professor at Harvard University, as well as director of the W.E.B. Du Bois Institute for African and African American Research. He is Editor-in-Chief of the Oxford African American Studies Center, the first comprehensive scholarly onlineresource in the field of African American and Africana Studies, and is co-editor, with K. Anthony Appiah, of Africana: The Encyclopedia of the African and African American Experience. With Evelyn Brooks Higginbotham, he is the co-editor of the eight-volume biographical encyclopedia African AmericanNational Biography. In addition, he is the author of Figures in Black: Words, Signs and the 'Racial' Self, Loose Canons: Notes on the Culture Wars, Colored People: A Memoir, and Thirteen Ways of Looking at a Black Man (co-authored with Cornell West). His four-hour documentary, Black in LatinAmerica, aired on PBS in April and May.