Divine Mother, Blessed Mother: Hindu Goddesses and the Virgin Mary (Hardcover)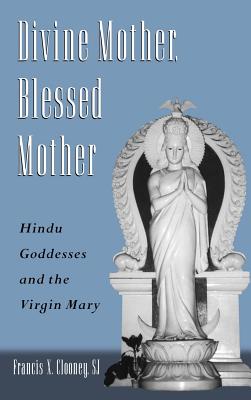 $60.00

Usually arrives at our store within 4-7 days
Description
---
In Divine Mother, Blessed Mother, Francis X. Clooney, S.J., a scholar of Hinduism as well as a Catholic priest and theologian, offers the first full-length comparative study of Hindu goddesses and the Virgin Mary. Clooney begins by looking at three specific goddesses as they are presented and addressed in religiously and theologically rich hymns from the Sanskrit and Tamil traditions: Nullri Laksmi, the eternal consort of Lord Visnu and life-giver to Him and all the world; the great Goddess Devi, in whom the world and gods too exist and flourish; and the lovely Tamil Goddess Apirnullami, who illumines the inmost mind and heart. Clooney then shows how Goddess traditions can be drawn into fruitful conversation with Christian tradition, taking a fresh look at the veneration and theology of Mary, the Mother of Jesus and Mother of God, as displayed in three famous Marian hymns from the Greek, Latin, and Tamil traditions. The book is enriched by the inclusion of fresh and full
translations of all of the hymns, including two translated here for the first time. Analyzing these six Hindu and Christian hymns, Clooney examines such questions as: How have Hindu theologians made room for a feminine divine alongside the masculine--and why? How has Christian thinking about divine gender differed from Hindu thinking? What might contemporary feminists learn from the goddess traditions of India? How might the study of Hindu goddesses affect Christian thinking about God and Mary? This is a book to read for its insights into the nature of gender and the divine, for the power of the hymns themselves, and for the sake of a religious adventure, an encounter with three Goddess traditions and Mary seen in a new light.

About the Author
---
Francis X. Clooney, S.J., is a Catholic priest and member of the Society of Jesus (the Jesuits). He is Parkman Professor of Divinity and Professor of Comparative Theology at Harvard Divinity School.