The Biographical Encyclopedia of Jazz (Paperback)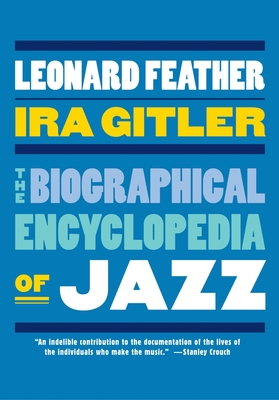 $54.00

Usually arrives at our store within 4-7 days
Description
---
Do you want to know when Duke Ellington was king of The Cotton Club? Have you ever wondered how old Miles Davis was when he got his first trumpet?
From birth dates to gig dates and from recordings to television specials, Leonard Feather and Ira Gitler have left no stone unturned in their quest for accurate, detailed information on the careers of 3.300 jazz musicians from around the world. We learn that Duke Ellington worked his magic at The Cotton Club from 1927 to 1931, and that on Miles Davis's thirteenth birthday, his father gave him his first trumpet. Jazz is fast moving, and this edition clearly and concisely maps out an often dizzying web of professional associations. We find, for instance, that when Miles Davis was a St. Louis teenager he encountered Charlie Parker and Dizzy Gillespie for the first time. This meeting proved fateful, and by 1945 a nineteen-year-old Davis had left Juilliard to play with Parker on 52nd Street. Knowledge of these professional alliances, along with the countless others chronicled in this book, are central to tracing the development of significant jazz movements, such as the "cool jazz" that became one of Miles Davis's hallmarks.
Arranged alphabetically according to last name, each entry of this book chronologically lists the highlights of every jazz musician's career. Highly accessible and vigorously researched, The Biographical Encyclopedia of Jazz is, quite simply, the most comprehensive jazz encyclopedia available.
About the Author
---
Leonard Feather, one of the deans of jazz criticism, is a widely respected figure in jazz writing. He moved to New York from England in the 1930s and made a significant career in jazz here as a journalist, producer, lecturer, broadcaster, musician, and writer of hundreds of jazz compositions. After founding The Encyclopedia of Jazz series in the mid 1950s, he moved to California, becoming the jazz columnist for the Los Angeles Times and The Book of Jazz. Leonard Feather died in 1994. Ira Gitler's writing has helped illuminate the jazz scene from 1951, when he wrote the first of countless album and CD annotations. He was the New York editor of Downbeat in the 1960s and continues to contribute to that publication, as well as to JazzTimes and Internet publications. His credits as a producer include recordings and concerts, and he teaches jazz history at the Manhattan School of Music. His books include the highly acclaimed Jazz Masters of the '40s and Swing to Bop, the latter written while he was a Guggenheim fellow. He lives in New York City.