Boccaccio: A Critical Guide to the Complete Works (Hardcover)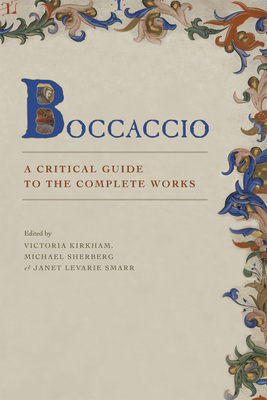 This item is not available.
Description
---
Long celebrated as one of "the Three Crowns" of Florence, Giovanni Boccaccio (1313–75) experimented widely with the forms of literature. His prolific and innovative writings—which range beyond the novella, from lyric to epic, from biography to mythography and geography, from pastoral and romance to invective—became powerful models for authors in Italy and across the Continent.                      This collection of essays presents Boccaccio's life and creative output in its encyclopedic diversity. Exploring a variety of genres, Latin as well as Italian, it provides short descriptions of all his works, situates them in his oeuvre, and features critical expositions of their most salient features and innovations. Designed for readers at all levels, it will appeal to scholars of literature, medieval and Renaissance studies, humanism and the classical tradition; as well as European historians, art historians, and students of material culture and the history of the book. Anchored by an introduction and chronology, this volume contains contributions by prominent Boccaccio scholars in the United States, as well as essays by contributors from France, Italy, and the United Kingdom. The year 2013, Boccaccio's seven-hundredth birthday, will be an important one for the study of his work and will see an increase in academic interest in reassessing his legacy.
About the Author
---
Michael Sherberg is associate professor of Italian at Washington University in St. Louis. He lives in St. Louis.


Janet Levarie Smarr is a professor in the Ph.D. program in Theatre at the University of California San Diego. She has published numerous articles on Italian and French women writers of the sixteenth century, and a book-length study, Joining the Conversation: Dialogues by Renaissance Women (2005).
Praise For…
---
"A welcome critical compendium for an often unjustly overlooked writer, this volume demonstrates the brilliance, wit, and complexity of Boccaccio--underscoring the significance of his entire corpus. . . . Balanced and well documented, the collection reveals the breadth of Boccaccio's writings."
— CHOICE

"As an introduction to Boccaccio's complete works there is no alternative publication available in either English or Italian that could lay claim to reflecting even a remotely similar degree of comprehensiveness, quality of achievement, or high level of scholarship."
 
— Speculum

"Boccaccio: A Critical Guide to the Complete Works will be indispensable to all audiences. . . . Offering clear analyses and numerous original insights into all of his works, it will serve the growing field of Boccaccio studies for many years to come."
— Modern Philology

"Published on the occasion of the 700th anniversary of Giovanni Boccaccio's birth, this superb collection of essays is a learned homage to the Tuscan author. . . . The volume is a valuable and successful critical undertaking that pleases both novice and scholar with its clear and thorough approach to Boccaccio's opus."
— Heliotropia

"Victoria Kirkham, Michael Sherberg, and Janet Levarie Smarr have given us an innovative tool of astonishing utility for teaching and research alike. Imitator and celebrator of Dante, friend and admirer of Petrarch, Boccaccio has all too often remained in the shadow of the other two 'crowns' of early Italian literature—in part owing to his many self-effacing contributions to the promotion and dissemination of their works and reputations. Boccaccio is known to us now almost exclusively as the author of the genial Decameron, but over the forty-year period of his maturity he produced a brilliant range of works—prose and poetry, Latin and vernacular, scholarly and creative—that would stealthily, yet pervasively, shape the course of Italian and European culture for centuries to come. The volume's twenty-nine essays (plus introduction and timeline) give us Boccaccio's literary, scholarly, and artistic career in all its experimental glory, with remarkable consistency, clarity, and insight. We are, and will remain so for years to come, deeply in debt to the editors and their authors. This is a major scholarly achievement."
— Albert Russell Ascoli, University of California, Berkeley

"This splendid guide will be the indispensable vademecum for anyone interested in Boccaccio. Distinguished scholars discuss every work he wrote; in addition to providing the textual, historical, and biographical information students new to Boccaccio will want, each essay offers an analysis that is an important contribution to the critical literature on the text. The editors have grouped the essays so that they stress the interconnections between and among Boccaccio's works; by undoing old divisions into major and minor, Italian and Latin, they allow the reader to gain a nuanced, integrated picture of his encyclopedic oeuvre. Boccaccio is more than the Decameron, great as it is; this volume does full justice to his extraordinary scope and art."
— Warren Ginsberg, University of Oregon

"This major contribution to the centennial celebrations of Boccaccio's birth (1313–2013) offers a magisterial overview of his many and diverse works, noting their interconnections and their relationship to the preceding literary traditions, classical and medieval. The collection also provides an assessment of current scholarship and a presentation of various critical perspectives, thus serving as a guide to future studies. Those readers familiar only with the Decameron will be especially enlightened as to Boccaccio's importance to and central role in the literary, artistic, and cultural life of the Trecento. Indeed, we marvel at the remarkable depth of his learning and the breadth of his literary production, which, in Italian and Latin, encompasses virtually all genres. Although Dante and Petrarch were his literary models and inspiration, Boccaccio succeeded in crafting his own distinctive voice(s) and variegated literary identity. This monumental volume firmly places Boccaccio, the third of the "three crowns," in the pantheon of authors who have had a major influence on world literature."
— Christopher Kleinhenz, University of Wisconsin–Madison