Myself and My Aims: Writings on Art and Criticism (Hardcover)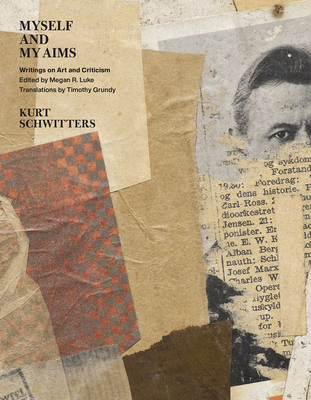 Description
---
Kurt Schwitters was a major protagonist in the histories of modern art and literature, whose response to the contradictions of modern life rivals that of Marcel Duchamp in its importance for artists working today. His celebrated Merz pictures—collaged and assembled from the scrap materials of popular culture and the debris of the studio, such as newspaper clippings, wood, cardboard, fabric, and paint—reflect a lifelong interest in collection, fragmentation, and abstraction, techniques he also applied to language and graphic design.

As the first anthology in English of the critical and theoretical writings of this influential artist, Myself and My Aims makes the case for Schwitters as one of the most creative thinkers of his generation. Including material that has never before been published, this volume presents the full range of his prolific writing on the art and attitudes of his time, joining existing translations of his children's stories, poetry, and fiction to give new readers unprecedented access to his literary imagination. With an accessible introduction by Megan R. Luke and elegant English translations by Timothy Grundy, this book will prove an exceptional resource for artists, scholars, and enthusiasts of his art.
 
About the Author
---
Megan R. Luke is associate professor of art history at the University of Southern California.
Praise For…
---
"Schwitters was a one-person Gesamtkunstwerk, who both concentrated and dispersed the old Wagnerian ideal. On the one hand, his practice was private, even domestic: his chief laboratory was his home in Hanover, which was gradually consumed by the first obsessive construction to be called 'Merzbau', a 3-D assemblage that eventually took up eight rooms. On the other hand, his activity involved multiple, often manic collaborations, the range of which is evident in the edition of his writings, expertly selected by Megan Luke and translated by Timothy Grundy."
— Hal Foster

"The collages Kurt Schwitters made may be instantly recognisable but less well known is his writing, from artistic credos to children's stories—collected in an anthology in English for the first time."
— Apollo, "Off the Shelf" Column

"Kurt Schwitters (1887-1948) is a well-known name in the area of early 20th-century collage, though it must be admitted that his contributions to Dada art and its development are somewhat overshadowed by Marcel Duchamp, Tristan Tzara, Man Ray, and Francis Picabia. This anthology of his compelling writings goes a long way toward encouraging a reexamination of the German artist's contributions to the inroads and sea-changes in art-making."
— The Arts Fuse

"The first anthology in English of the critical and theoretical writings of the influential artist best known for his Merz assemblages, demonstrating the range of his creative thinking."
— The Bookseller

"This indispensable collection follows Schwitters' swiftly changing thought on a diverse range of subjects from architecture and painting to graphic art and poetry. In each case Schwitters delivers his canny diagnosis with rigor, humor, and unflinching belligerence. No figure was able to reconcile Dadaist nihilism with constructivist optimism quite like Schwitters, and his striking insights about the hollow metaphysics of consumer society will not fail to resonate with anyone torn between the positions of critique and complicity today."
— Devin Fore, Princeton University