The Invisible Dragon: Essays on Beauty, Revised and Expanded (Paperback)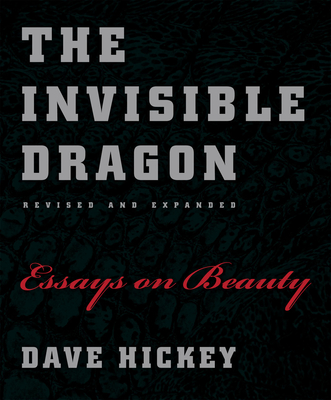 This item is not available.
Description
---
The Invisible Dragon made a lot of noise for a little book When it was originally published in 1993 it was championed by artists for its forceful call for a reconsideration of beauty—and savaged by more theoretically oriented critics who dismissed the very concept of beauty as naive, igniting a debate that has shown no sign of flagging.
With this revised and expanded edition, Hickey is back to fan the flames. More manifesto than polite discussion, more call to action than criticism, The Invisible Dragon aims squarely at the hyper-institutionalism that, in Hickey's view, denies the real pleasures that draw us to art in the first place. Deploying the artworks of Warhol, Raphael, Caravaggio, and Mapplethorpe and the writings of Ruskin, Shakespeare, Deleuze, and Foucault, Hickey takes on museum culture, arid academicism, sclerotic politics, and more—all in the service of making readers rethink the nature of art. A new introduction provides a context for earlier essays—what Hickey calls his "intellectual temper tantrums." A new essay, "American Beauty," concludes the volume with a historical argument that is a rousing paean to the inherently democratic nature of attention to beauty.
Written with a verve that is all too rare in serious criticism, this expanded and refurbished edition of The Invisible Dragon will be sure to captivate a new generation of readers, provoking the passionate reactions that are the hallmark of great criticism.
About the Author
---
Dave Hickey (1938-2021) was the executive editor of Art in America and the author of 25 Women: Essays on Their Art,The Invisible Dragon: Essays on Beauty, and Air Guitar. He served as a contributing editor for the Village Voice and as the arts editor of the Fort Worth Star-Telegram.
Praise For…
---
"Dave Hickey is my hero, a great mind driven not by necessity but by desire—erudite, generous, and free. If this book of shocking intelligence and moral hope is read widely and above all well, word for word, it will help the world."
— Peter Schjeldahl, on the first edition

"[Hickey's] writing is exhilarating and deeply engaging. At its best, Dragon is both a time capsule of a period when dirty pictures could dismantle institutions and a provocation to reignite the conversation about the purpose of art."—Jennie Yabroff, Newsweek
— Jennie Yabroff

"Reading The Invisible Dragon for the first time was an illuminating experience. It has by no means lost its provocative impact. Hickey's essays are ideal for provoking discussion and debate about the big issues, the issues we should all be talking about."
— Mary Sheriff, author of Moved by Love

"The Invisible Dragon takes up the problem of beauty that Dave Hickey first visited two decades ago, reminding us what has eroded the beautiful in the modern world and taking on the way that contemporary Americans talk about the things they find beautiful. Beauty still has the power to locate us physically in a physical world, in ethical relationships that make us care for other human beings. It's part of a long inheritance, stretching back to pagan antiquity. Ultimately it's about freedom in a shrinkingly unfree world—or, as he says, 'blue skies and open highways.'"
— Barbara Maria Stafford, author of Echo Objects

"Hickey's smart, provocative, and a great writer, to boot. . . . Even if you don't agree with him, he's such a lively thinker that you'll relish the argument."
— Michael Miller

"Dave Hickey is a giant of art criticism--a craft for which he has little regard."
— Jesse Kornbluth

"The four now infamous essays republished here . . . carry the weight of the author's knowledge, observations and experiences. . . . Beauty, we are often told, is in the eye of the beholder, and it is the beholder that Hickey champions here. To embrace this collection is to become ensconced in the provocative world of Mapplethorpe, Caravaggio, Warhol and others, with a guide whose comprehension of the art world and observations of an influential perceptual shift is nothing short of remarkable."
— Suzann Clemens

"Hickey believes not in art that is good for you but art that is ... good to you"
— ARTicles

"When Dave Hickey died last fall at the age of eighty-two, he left behind a singular contribution to the history of art writing, along with a badly bruised reputation, both routinely called 'iconoclastic' for lack of anything more precise. The magazines he'd published in since the 1960s hardly took notice. The perfunctory obituaries that did appear treated him as a kind of Hunter S. Thompson of the contemporary art world, ensconced as he was in Las Vegas at the height of his fame. But alongside the bluster of 'the bad boy of art criticism' was a neon Walter Pater of the Southwest who almost single-handedly remade the practice of art writing with his first two collections, The Invisible Dragon and Air Guitar."
— New York Review of Books