Beethoven for a Later Age: Living with the String Quartets (Hardcover)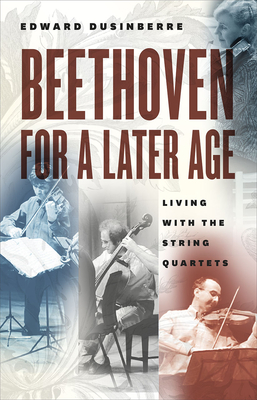 This item is not available.
Description
---
Beethoven's sixteen string quartets are some of the most extraordinary and challenging pieces of music ever written. Originally composed and performed between 1798 and 1826, they have inspired artists of all kinds—not only musicians—and have been subject to endless reinterpretation. But what is it like to personally take up the challenge of these compositions, not only as a musician, but as a member of a quartet, where each player has ideas about style and expression? To answer this question, Edward Dusinberre, first violinist of the renowned Takács Quartet, offers a rare peek inside the workings of his ensemble, while providing an insightful history of the compositions and their performance.

Founded in Hungary in 1975 and now based in Boulder, Colorado, the Takács is one of the world's preeminent string quartets, and performances of Beethoven have been at the center of their work together for over forty years. Using the history of both the Takács Quartet and the Beethoven quartets as a foundation, Beethoven for a Later Age provides a backstage look at the daily life of a quartet, showing the necessary creative tension between individual and group and how four people can at the same time forge a lasting artistic connection and enjoy making music together over decades. The key, Dusinberre reveals, to a quartet crafting its own sound is in balancing continuity with change and experimentation—a theme that lies at the heart of Beethoven's remarkable compositions. In an accessible style, suitable for novices and chamber music enthusiasts alike, Dusinberre illuminates the variety and contradictions of Beethoven's quartets, which were composed against the turbulent backdrop of the Napoleonic Wars and their aftermath, and he brings the technical aspects of the music to life.

Beethoven for a Later Age vividly shows that creative engagement with Beethoven's radical and brilliant quartets continues to be as stimulating now as it was for its first performers and audiences. Musicians and music lovers will be intrigued by Dusinberre's exploration of the close collaboration at the heart of any great performance.
 
About the Author
---
A Grammy Award–winning musician, Edward Dusinberre has been the first violinist of the Takács Quartet since 1993. He is an artist-in-residence and the Ralph E. and Barbara L. Christoffersen Faculty Fellow at the University of Colorado Boulder. He is also a faculty member of the Music Academy of the West and a visiting fellow at the Guildhall School of Music and Drama. Dusinberre is the author of Beethoven for a Later Age: Living with the String Quartets, winner of the Royal Philharmonic Society's 2016 Creative Communication Award. He has also won awards from Gramophone Magazine, the Japanese Recording Academy, and Chamber Music America. Outside of the quartet, he has made a recording of Beethoven's violin sonatas nos. 9 (Kreutzer) and 10 on the Decca label.
Praise For…
---
"A richly detailed portrayal of the intimate workings of a great string quartet, in this case the magical Takács, as revealed to us through the recollections of its first violinist.  Fascinating certainly to someone working in another artistic realm entirely."  
— Philip Roth

"Dusinberre brilliantly spans Beethoven's life, works, and the real issues of music making for his contemporaries into our time—via the working process of a great modern quartet living with Beethoven's creations in the twenty-first century. We are given intimate insight into the almost impossible-to-describe musical process of rehearsal and performance, the artistic and human interaction that links these modern musicians with their forebears and Beethoven himself. I'm struck by Dusinberre's ability to take us inside the mind and spirit of a performer and struck by his understanding of Beethoven's music and time.  He brings us with him into our own epoch, and we note the remarkable parallels."
— Garrick Ohlsson, pianist

"This singular memoir looks both into the mind of a string quartet player and into the collective mind of his ensemble. It's a portrait not of science but of art: fluid, evolving, obsessed with the disciplined, elusive, ultimately impossible quest for something definitive, at the same time subject to the inspirations of the moment and the presence of the cougher in the second row. The book will be something between informative and revelatory to readers from musicians to music lovers."
— Jan Swafford, author of Beethoven: Anguish and Triumph

"In this brief but beguiling book, Dusinberre . . . takes us inside the complexity of [Beethoven's] masterpieces—elucidating the history of their creation and explaining, with the minimum of technicality, the challenges they pose to performers and audience. . . . The glimpse Dusinberre gives us of their working is fascinating."
— Telegraph

"The book follows [Dusinberre's] personal journey, while simultaneously threading through the parallel stories of Beethoven's development as a composer, of the string quartet in general, and of early 19th-century culture and politics. Does all that seem a tall order? The narrative is potentially as complex as one of Beethoven's knotty four-part fugues in the late quartets, but 20 years' experience of playing chamber music has made Dusinberre adept at handling the interplay of multiple themes. Self-awareness and a sense of humour play their part. Sleight of hand makes the book entertaining and easy to digest."
— Financial Times

"Full of insights. . . . Dusinberre's concluding musical commentary moulds past and present into a powerful and thought-provoking whole."
— Independent

"Dusinberre is the lead violinist of the Takacs Quartet, one of the world's most highly regarded string ensembles, and he has written a fascinating book about the musical life of this group of players. Interwoven with that is the story of Beethoven's 16 string quartets, works of extraordinary power written over a quarter-century that moved the genre on from the earlier masters and are now regarded as the apogee of the chamber-music repertoire."
 
— Economist

"In the course of Dusinberre's wonderful, engaging, and intimate book, the eager listener (even one like me, with no technical knowledge of music) is initiated into the mysteries of composing and playing some of the greatest music ever heard. The music, as a result, seems even greater—and more mysterious than ever."
— Geoff Dyer, author of But Beautiful

"Gathering up and reflecting on the work of his predecessors is not the least of Edward Dusinberre's achievements in a book unlike any other in its field, to be considered and enjoyed by anyone with more than a passing interest in Beethoven or quartet playing."
 
— Gramophone

"At the heart of the book is Dusinberre's and the quartet's internal challenge of bringing to life the music of Beethoven for modern ears. For those who have ever wondered what goes on behind the closed doors of a rehearsal, the book pulls back the veil and reveals some of the variables at play, including the very real presence of the composer, long dead, whose notes are on the page. What Dusinberre does best, though, is use the deeply emotional and personal music of Beethoven in a thoughtful juxtaposition with the progression of his own individual experiences as part of the notable string quartet."
 
— Summit Daily

"Textured and witty."
— Christian Century

"Goethe, a contemporary of Beethoven, described the string quartet as 'four rational people conversing with each other.' In this autobiographical book Dusinberre, leader of the Takács Quartet, makes it sound very different—a 20-year struggle for perfection, full of tension and companionship, as the four players master Beethoven's great quartets."
 
— Financial Times, A Summer Book of the Year

"A genial travelogue-cum-historical narrative. . . . In his book Dusinberre is a generous host, attempting to let in sunlight on a process and ritual usually hidden by clouds."
 
— Australian Book Review

"In these elegant memoirs he reflects on a life spent in this small community, nourished and challenged by Beethoven's sixteen string quartets. . . . The book is most rewarding in the sections that tackle individual quartet movements, and I went back to the Takács recordings to listen again. It is a book that makes you want to return to the music—and that is its great success."
 
— Literary Review

"This book is at once the author's memoir as longtime first violinist of the Takács String Quartet; a history of the composition of some of Beethoven's quartets; and a meditation on how those Beethoven quartets, their reception, and their influence have shaped the Takács Quartet (and, one presumes, various other performing quartets).  . . . Dusinberre's book may find greatest favor among string students, who will get a taste of how a major quartet operates, and chamber music lovers, who will get something like a backstage pass.  . . . Recommended."
 
— Choice

"The inward focus of Dusinberre's descriptions of rehearsing and performing individual Beethoven movements is a strength of his book. It gives the reader a personal sense of what quartet playing is really like, how much it demands, and how hard even the best players have to work to achieve a communal interpretation of a single phrase, a movement, an entire Beethoven quartet. . . . Dusinberre's book will stand on the shelves with those of other performers who have written about their experience in the rehearsal room and concert hall. . . . [The] last chapters are among the most moving and personal, as he reflects on all he has learned and how he and the quartet have developed over more than twenty years of deep communal engagement with these incomparable works."
 
— New York Review of Books

"Engagingly written, the book is a fascinating journey into the workings of a professional string quartet, including tour experiences and encounters with audiences. . . . String players will benefit from the transcribed discussions of the musical minutiae, but other musicians and general readers will find much to enhance their appreciation of Beethoven's quartets as well." 
— The Beethoven Journal

"I was able to delve even deeper into the music, thanks to a recent book about the quartets and how to play them, written by the [Takács] group's first violinist, Edward Dusinberre. For anyone even remotely interested in the Beethoven string quartets, string quartets in general, or simply how music can enrich one's life, I highly recommend following my example: buy the scores and study them, buy the book and read it, and listen to the music. Then listen again and again. You won't regret it."
— Classical Voice North America