Big House on the Prairie: Rise of the Rural Ghetto and Prison Proliferation (Paperback)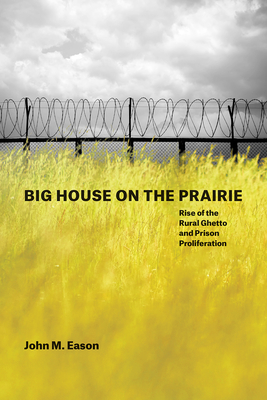 This item is not available.
Description
---
For the past fifty years, America has been extraordinarily busy building prisons. Since 1970 we have tripled the total number of facilities, adding more than 1,200 new prisons to the landscape. This building boom has taken place across the country but is largely concentrated in rural southern towns.

In 2007, John M. Eason moved his family to Forrest City, Arkansas, in search of answers to key questions about this trend: Why is America building so many prisons? Why now? And why in rural areas? Eason quickly learned that rural demand for prisons is complicated. Towns like Forrest City choose to build prisons not simply in hopes of landing jobs or economic wellbeing, but also to protect and improve their reputations. For some rural leaders, fostering a prison in their town is a means of achieving order in a rapidly changing world. Taking us into the decision-making meetings and tracking the impact of prisons on economic development, poverty, and race, Eason demonstrates how groups of elite whites and black leaders share power. Situating prisons within dynamic shifts that rural economies are undergoing and showing how racially diverse communities lobby for prison construction, Big House on the Prairie is a remarkable glimpse into the ways a prison economy takes shape and operates.
About the Author
---
John M. Eason is assistant professor in the Department of Sociology at Texas A&M University.
Praise For…
---
"Big House on the Prairie tackles a problem that is simultaneously intensively interesting and underexamined. . . .Eason provides a lucid and insightful look into a set of community dynamics that other epistemological lenses would not yield. The result is a delightful and valuable contribution to the sociological literature on community development that will also appeal to scholars of rural crime and justice."
— American Journal of Sociology

"The building of prisons in rural areas has been a research topic for rural sociologists interested in the survival of small town America. The usual framework involves measuring the economic impact of the institution. The approach taken here is much broader. Based on an ethnographic study of a small town in Arkansas that sought a federal prison, Eason brings together the literature on rural ghettos, the politics of mass incarceration, and small town politics, as well as the framing of stigma. While the conclusion won't surprise many researchers concerning the impact of the prison, the connections that are drawn between urban racial issues and small town politics is an important contribution to the literature. Recommended."
— Choice

"Big House on the Prairie is a masterful, sensitive, and theoretically complex study of the politics of prison building in a southern town dealing with the 'quadruple stigma of rurality, race, region, and poverty.' Eason makes important contributions to four fields at once—rural and urban sociology, race, and criminal justice studies—and weaves history, ethnography, statistics, and personal narrative into a beautifully written account of how a place comes to welcome a prison as a positive development."
— Mary Pattillo, author of Black on the Block: The Politics of Race and Class in the City

"This fascinating and critically important book disentangles the many forces that led to the late-twentieth century prison-building boom through a case study of Forrest City, Arkansas—a poor, rural prison town. The steel and concrete penal structure that was welcomed in this struggling community is the mere manifestation of a whole host of social problems, which Big House on the Prairie details with tragic authority. Eason's ethnographic observations redirect the political question of whether prisons are economic boons or busts by unveiling the conditions that gave rise to mass incarceration and related social ills in the first place."
— Mona Lynch, author of Hard Bargains: The Coercive Power of Drug Laws in Federal Court