Write No Matter What: Advice for Academics (Chicago Guides to Writing, Editing, and Publishing) (Paperback)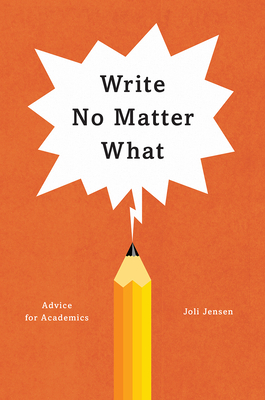 This item is not available.
Description
---
With growing academic responsibilities, family commitments, and inboxes, scholars are struggling to fulfill their writing goals. A finished book—or even steady journal articles—may seem like an impossible dream. But, as Joli Jensen proves, it really is possible to write happily and productively in academe.

Jensen begins by busting the myth that universities are supportive writing environments.  She points out that academia, an arena dedicated to scholarship, offers pressures that actually prevent scholarly writing. She shows how to acknowledge these less-than-ideal conditions, and how to keep these circumstances from draining writing time and energy. Jensen introduces tools and techniques that encourage frequent, low-stress writing. She points out common ways writers stall and offers workarounds that maintain productivity. Her focus is not on content, but on how to overcome whatever stands in the way of academic writing.

Write No Matter What draws on popular and scholarly insights into the writing process and stems from Jensen's experience designing and directing a faculty writing program. With more than three decades as an academic writer, Jensen knows what really helps and hinders the scholarly writing process for scholars in the humanities, social sciences,and sciences.

Cut down the academic sword of Damocles, Jensen advises. Learn how to write often and effectively, without pressure or shame. With her encouragement, writers of all levels will find ways to create the writing support they need and deserve.
About the Author
---
Joli Jensen is the Hazel Rogers Professor of Communication at the University of Tulsa, where she founded and directs the Henneke Faculty Writing Program. She is the author of Is Art Good For Us? Beliefs about High Culture in American Life; The Nashville Sound: Authenticity and Commercialization in Country Music; and Redeeming Modernity: Contradictions in Media Criticism. Find out more at www.jolijensen.com.
Praise For…
---
"Most academics need to write, yet for many, argues Joli Jensen, it becomes something close to an 'existential trauma.' What they need to do is treat writing like a craft, rather than an ordeal, a matter of learning 'effective tools and habits' but not 'a measure of [their] inner worth.'"
— Times Higher Education

"Jensen is one of us, and she understands the challenges we face. Her goal with this book is not to remove the barriers to productive writing but to help us overcome them by, in part, acknowledging the emotional and psychological dimensions of writing. Her reassuring, inspiring voice exudes empathy and encouragement. . . . Delightful in its straightforwardness and refreshing in its candor, Write No Matter What promises to inspire and energize those who take its suggestions seriously."
— Steven E. Gump

"I like Jensen's emphasis that academic writing is a craft, and all crafts need to be learnt and developed—we are not born with an ability to write a research paper any more than we have an innate aptitude for mending chairs. One needs to make time to write and in the right environment, just as one would set aside the necessary time and appropriate space to fix a chair."
— Stephen K. Donovan

"Jensen preaches self-discipline with the dual purpose of liberating the writer to take control, to make daily choices that reflect his deepest values—and of instilling the courage to insist that others respect these choices."
— International Journal for Academic Development

"A cornucopia of valuable advice."
— Publishing Research Quarterly

"Write No Matter What is research and practice based, direct, and written in an exceptionally readable style. Busy faculty members will find creative and straightforward strategies for creating more time, space and energy for writing."
— Mary Deane Sorcinelli, University of Massachusetts Amherst

"Write No Matter What is simultaneously inspiring and practical. Jensen shines clarifying light on the shadows that too often make academic writing a challenging, and at times frustrating or terrifying, process. She invites us to treat our writing as a craft that we can develop and then continue to hone throughout our careers. Jensen provides a set of tools and techniques that make it possible—even pleasurable—for anyone from a new graduate student to a seasoned faculty member to become a productive academic writer."
— Peter Felten, assistant provost for teaching and learning and executive director of the Center for Engaged Learning, Elon University

"Jensen is friendly, direct, and clear, without sounding clichéd. She acknowledges the challenges and is honest about the material conditions academic writers face in an imperfect setting. Write No Matter What offers effective and portable practices for a broad academic audience."
— Michele Eodice, associate provost and director of the OU Writing Center, University of Oklahoma